With the launch of a new Apple Watch comes a few refreshed collections that the device is available in, requiring users to choose from specific case/band combinations to enter the Apple Watch ecosystem. The Apple Watch Series 3 is available in both non-LTE and LTE-capable models, but there is one downside: if you want a Series 3 in Stainless Steel or Ceramic, you have no choice but to buy a cellular-enabled Apple Watch.
Apple's non-LTE Series 3 Apple Watch brings about all of the usual performance improvements over the previous generation, including a faster processor, W2 chip, barometric altimeter, and more. The LTE models include all of this, on top of cellular capabilities that further de-tether your iPhone from your Apple Watch, so you can make calls, send messages, stream Apple Music, and more right on your wrist.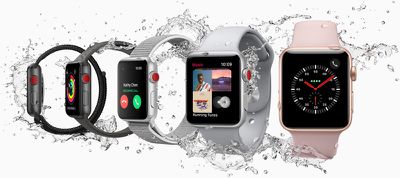 Apple added in non-LTE versions of the Series 3 for those users who don't think they need a cellular Apple Watch, but it's limited collections for these models to just Aluminum cases. All Series 3 collections in Stainless Steel -- of which there are only four non-Hermés models -- come with LTE, as do both White Ceramic and Gray Ceramic collections. There are also eight Hermés collections with Stainless Steel cases, each one backing the new cellular features.
If you want the improved features of a new Apple Watch Series 3 without LTE, you'll have to choose from four Apple Watch Sport models: one Silver Aluminum Case with Fog Sport Band, one Gold Aluminum Case with Pink Sand Sport Band, and two Space Gray Aluminum Cases (one with a Gray Sport Band and one with a Black Sport Band).


There are also two Series 3 Nike+ collections without LTE, both in Aluminum: a Silver Aluminum Case with Pure Platinum/Black Nike Sport Band and a Space Gray Aluminum Case with Anthracite/Black Nike Sport Band.


That makes six total Apple Watch Series 3 collections without LTE among Apple's 31 new collections of the revamped wearable device. Also of note is that in launch countries where Apple isn't yet offering cellular support, buyers will then be left with Aluminum as their only option.

Launch Countries
Non-cellular available: Australia, Austria, Belgium, Canada, China, Denmark, Finland, France, Germany, Hong Kong, Ireland, Italy, Japan, Luxembourg, Netherlands, New Zealand, Norway, Portugal, Puerto Rico, Singapore, Spain, Sweden, Switzerland, Taiwan, the UK, the US and US Virgin Islands.
Cellular available: Australia, Canada, China, France, Germany, Japan, Puerto Rico, Switzerland, the UK and the US
The first impressions of the Apple Watch Series 3 have been largely positive, particularly thanks to its improved performance, Siri's ability to speak aloud, and new heart rate detection metrics. Some initial hands-on reports have noted uncertainty about LTE, but like most premium features the usefulness of a cellular-capable Apple Watch will vary greatly person-to-person.
For a look at all of the new bands that Apple launched yesterday, check out our blog post right here.