Apple Watch Series 3: Skepticism Surrounds Usefulness of LTE, but Performance Improvements Welcome
While the focus and discussion following today's Apple event remains largely on the iPhone X, the company also announced the Apple Watch Series 3, which packs cellular connectivity into the same form factor of Apple's wearable device that we've seen since the first generation.
First impressions for the device have now been released, and The Verge pointed out that the Apple Watch Series 3 will be very familiar to any previous Apple Watch wearers, explaining that you can only really notice its slightly thicker case when comparing the Series 3 to the Series 2 from each side. The only other differentiating factor is the red dot on the Digital Crown of the LTE models.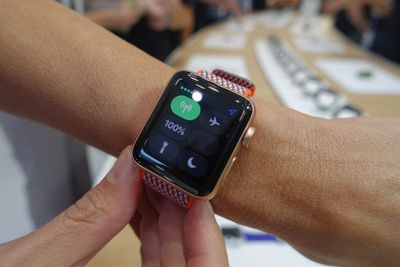 Apple claimed that the LTE Apple Watch Series 3 will last as long as previous versions of the smartwatch (about 18 hours, though most users get more out of it), but
The Verge
remained skeptical about that statistic ahead of an official test and review. For now, the site said the updated Apple Watch still doesn't feel like a game-changer, but those on older generations will likely find a lot of reasons to upgrade.
And the even bigger question: will having a smartwatch with LTE really change things? Apple is not the first to make an LTE-equipped smartwatch; Samsung and LG have done it before. It will certainly be useful for very specific things — not having to carry a phone on a long hike and still having LTE for emergency situations, or streaming new music from the watch when you're out and about and are tired of your locally stored stuff. And hey: Apple even showed a woman surfing while wearing a cellular-equipped Apple Watch.

But I'm also not convinced yet that this is a total game-changer — not yet. It's still in a relationship with iPhone. It just happens to be a more powerful, capable, more independent gadget when iPhone is not around.
Engadget noted that while the design of the Apple Watch Series 3 isn't "much to write home about" when looking for differences between it and earlier models, Apple's decision to retain support for older bands is still a welcome move. After trying it on, Engadget said the Series 3 version felt essentially the same to the Apple Watch Series 2, but the site explained that this is "a huge testament to [Apple] Watch's design team.

That the Apple Watch Series 3 doesn't feel different from the Series 2 I wear almost everyday is a huge testament to Watch's design team. Apple says the actually difference in depth amounts to two sheets of paper, and, while I didn't have any spare sheets to test against, most people will never notice the difference. That's saying something considering just what's inside: there's an LTE radio and an embedded SIM, and the screen itself acts as an antenna. Unfortunately, none of the Apple Watches I tested were actually provisioned on a cellular network, so no test calls went through.
Engadget also pointed out a "pretty noticeable" increase in performance compared to Series 2, although it isn't as "pronounced" as the jump from the first generation to Series 2. Of course, some of the more notable changes to Series 3 -- like hearing Siri speak or streaming Apple Music -- will have to wait for official reviews once the device launches on September 22.

There's a pretty noticeable step up in performance too, thanks to the S3 chipset ticking away inside. The change doesn't seem quite as pronounced as the leap from the Series 1 to the Series 2, but I didn't notice any lag or stuttering on Apple's pre-release units.

All told, the Series 3 packs some handy upgrades and should serve as the starting point for people new to the Apple Watch. I'm curious to see how many people will actually embrace the wireless version, which costs $70 extra than the non-LTE model. Apple's vision of wearables is one where people don't have to worry about carrying their phones with them 24/7, but honestly, I think a lot of people like things the way they are.
The Apple Watch Series 3 is available in a Wi-Fi only model starting at $329, and a Wi-Fi + Cellular model starting at $399. Apple today also unveiled new bands and cases for the device, including a new Sport Loop and new Gray Ceramic case.