Apple Received Approval Just Last Week to Host First-Ever Event at Steve Jobs Theater
Following several months of construction, Apple tomorrow will host its first-ever event at Steve Jobs Theater at its new Apple Park headquarters. Apple invited members of the press to the event on August 31.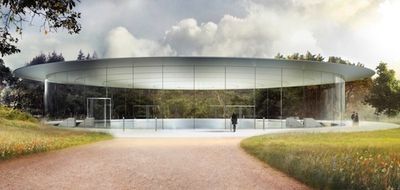 Records uncovered by VentureBeat, however, show Apple didn't receive approval to host the event until the next day.
Cupertino, California city officials granted Apple a Temporary Certificate of Occupancy for Steve Jobs Theater on September 1, indicating that the theater has passed various fire and safety checks. The final signature was September 4.


Despite needing additional work of some kind, per the records, Steve Jobs Theater is now deemed to be a safe venue for the hundreds of journalists and other invitees that will sit down for tomorrow's iPhone X reveal.
Apple filed for the certificate on August 8, so it's likely that Tim Cook or another senior executive told Cupertino to hold off on signing the paperwork, which would have hinted at the location of Apple's September event.
Apple is among few companies that would go to such lengths to obscure or delay such information, but unfortunately for it, a leak of the iOS 11 golden master version has revealed many details expected to be announced tomorrow.
In addition to the iPhone X, Apple is widely rumored to unveil the less expensive iPhone 8 and iPhone 8 Plus, a new Apple TV with 4K video playback, and Apple Watch Series 3 models, including some with LTE connectivity.
MacRumors.com will provide full coverage of the keynote, which begins tomorrow at 10:00 a.m. Pacific Time.