iPhone 7 Modded to Include Fully Functional 3.5mm Headphone Jack
Former software engineer Scotty Allen has posted his second video to YouTube this week, in which he decides to modify an iPhone 7 in order to add a functional 3.5mm headphone jack into the smartphone. On the Strange Parts website, Allen explained that he spent four months on the project, working in Shenzhen, China assembling the tools, going through 7 custom circuit boards designs, and 3 disassembled iPhones to finally arrive with a working unit.
Allen said that the hardest part of creating an iPhone 7 with a headphone jack centered on the electrical design and fitting the new parts inside of the smartphone. Upon the release of the iPhone 7, Apple said that the removal of the 3.5mm headphone jack was needed to make room for the internals of the new camera system -- as well as increasing water resistance -- but Allen found that "there was inexplicably a lot of extra room" near the lower left hand corner of the iPhone 7, where he added the component.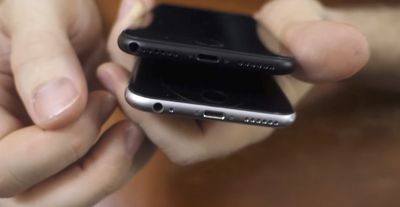 The modded iPhone 7 (above) compared to an iPhone 6s (below)
While Allen's feat is notable due to many iPhone users' ongoing complaints about losing the headphone jack on the newer iPhones, it isn't a practical solution for everyday users. Allen pointed out that he went through designing numerous circuit boards that were "more complex" than anything he's ever done, as well as spending money on "lots, and lots, and lots" of spare parts and advanced disassembly tools.
I'm pretty proud of the final implementation. I took apart an Apple lightning to headphone adapter, put that inside the phone, and hooked it up by man in the middling the lightning jack with a flexible PCB. The PCB has a switching chip that switches between connecting the headphone adapter to the phone by default, and then disconnecting it and connecting the lightning jack when something is plugged into it. I have a couple other timer chips that briefly disconnect everything from the phone when something is connected/disconnected to improve the reliability of the phone detecting when something is plugged/unplugged (otherwise it sometimes gets confused).
The full 30-minute video goes into detail of Allen's project, and he reveals the successful final product at the 30:00 minute mark. One downside is that the modded iPhone 7 can't listen to music and charge simultaneously, which Allen admitted would require a "pretty serious engineering effort."
Earlier in April, Allen
built his own functional iPhone 6s
entirely by finding spare parts in Huaqiangbei, China. His final homemade iPhone 6s was a like-new 16GB device with full functionality, including a working Touch ID Home button.
Allen ended his new video telling Apple that he "really wants to buy an iPhone with a headphone jack from you," hoping that Apple will return the 3.5mm headphone jack into an upcoming iPhone model sometime in the future. Apple is holding an iPhone reveal event in Cupertino next week on September 12, and all three new smartphones -- the iPhone 8, iPhone 7s, and iPhone 7s Plus -- are not expected to have a headphone jack, although Apple might continue to include a Lightning to headphone jack adapter in the box.
For more information about Allen's project, check out the Strange Parts website here.