'iPhone 8' May Include Option to Activate Siri By Holding the Sleep/Wake Button
In the absence of a physical Home button, Apple's so-called "iPhone 8" may allow users to activate Siri by holding down the Sleep/Wake button if they prefer not to do so using the voice command "Hey Siri". That's according to iOS developer Guilherme Rambo, based on a discovery he has made in source code that points to the possibility.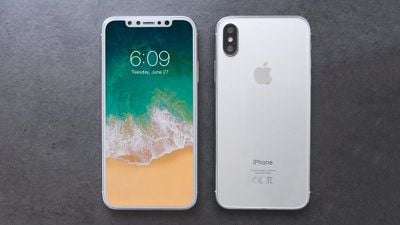 In a tweet posted on Saturday, Rambo said he wondered if Apple had moved any of the original Home button's functionality to the "lock" button (or Sleep/Wake, as Apple calls it) located on the upper right side of the handset. When asked by a follower if he had found something in Apple's code to suggest this, Rambo revealed that he had indeed discovered a gesture to invoke Siri by holding the lock button.
It's unclear what type of code Rambo refers to, but the Brazilian developer has previously unearthed details of upcoming Apple products in the company's beta software, including references to a 4K Apple TV in tvOS 11 as well as references in early HomePod firmware to some features widely expected in the company's upcoming OLED iPhone.
I did find a gesture to invoke Siri by holding the lock button. — Guilherme Rambo (@_inside) September 2, 2017
Apple's radically redesigned iPhone does away with the Home button entirely, relying instead on a new gestural interface that includes a "
software bar
" along the bottom of the screen and an app dock similar to the one found in iOS 11 on iPad.
While next-generation facial recognition technology is said to replace Touch ID fingerprint authentication, details are murky as to how Apple plans to remap other functions that traditionally involve pressing the Home button. For instance, any method of invoking Siri using the Sleep/Wake button would need to be sufficiently distinct from the current long press that activates the slide-to-power-off screen, unless Apple has also relocated the latter function. Another possibility is that the power button on the OLED iPhone houses two separate contact switches, which could explain why it appears elongated in some alleged design leaks.
All should be revealed at the company's September 12 media event, where Apple is expected to unveil its "premium" OLED iPhone alongside new upgraded versions of iPhone 7 and 7 Plus, a fifth-generation Apple TV, and an Apple Watch Series 3 range with LTE capability. Apple will stream the event live on its website and on the Apple TV, but for those who are unable to watch, MacRumors will be providing full event coverage, both on MacRumors.com and through our MacRumorsLive Twitter account.
Update: A reader has pointed out that last month Brazilian blog iHelp BR discovered a line of code in the HomePod firmware that suggests the Sleep/Wake button could in fact change functions on the OLED iPhone depending on the app currently in use. The line of code "lockButtonAppropriateForShutter" likely relates to the native camera app and may indicate the presence of dual switches.