Apple Watch Series 3 Enters 'Final Testing Phase' Ahead of Rumored September Launch
Apple Watch Series 3 models have entered the "final testing phase" in the manufacturing process, with mass production set to begin soon, according to a new Chinese-language Economic Daily News report [Google Translate].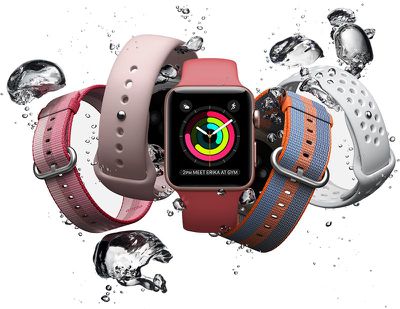 The report, citing unnamed supply chain sources, said Taiwan-based manufacturer Quanta Computer will begin shipping Apple Watch Series 3 models to Apple in the fourth quarter, lining up with the smartwatch's widely rumored September launch, alongside new iPhones and possibly a 4K-capable Apple TV.
Apple Watch Series 2 models and slightly upgraded Series 1 models launched last September alongside the iPhone 7, so it's reasonable to assume that Series 3 models could launch this September as well. The original Apple Watch, now unofficially dubbed Series 0, launched in April 2015.
The rest of the report cites KGI Securities analyst Ming-Chi Kuo, who recently claimed Apple Watch Series 3 will be available in both Wi-Fi and Wi-Fi + LTE models in 38mm and 42mm sizes. Kuo said the cellular-enabled model will have an embedded SIM, but it might support VoIP calling only.
Apple Watch Series 3 models will also reportedly have improved performance and longer battery life, at least for the Wi-Fi-only version.
What's less certain is whether the Apple Watch will be significantly redesigned for the first time since being unveiled in September 2014.
Apple blogger John Gruber recently said he heard Apple Watch Series 3 models could have an all-new form factor, but he stressed that the tidbit came from an unconfirmed source who could be wrong. Kuo, meanwhile, said Apple Watch Series 3 models won't have any "obvious" form factor changes.
"It could also be that both my birdie and Kuo are correct," said Gruber, in a follow-up post yesterday. "The phrase 'will not feature an obvious new form factor' leaves a lot of wiggle room with the word 'obvious'," he added.
Few other details are known about the next Apple Watch at this point, and no components have leaked from the supply chain yet.
Apple has filed patents for a number of ideas that could eventually be included in an Apple Watch, such as a heart rate identification system, modular bands, haptic feedback band, and a band with a built-in charger. More significant health and fitness features could be added pending further FDA approvals.