Apple CEO Tim Cook: 'We Have a Moral Responsibility to Help Grow the Economy'
Tim Cook last Friday visited Austin, Texas, where he announced that Apple's App Development with Swift curriculum will be offered in over 30 leading community college systems across the United States starting in 2017.
During his visit to Austin, Cook sat down with The New York Times for a breakfast interview where he discussed topics ranging from job creation and diversity to the company's efforts to introduce coding curriculum in schools and colleges.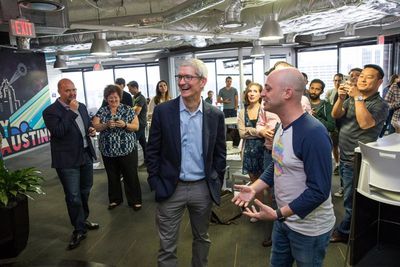 On the topic of creating jobs, Cook said that he believes Apple has a "moral responsibility to help grow the economy" and to contribute both to the United States and to the other countries where Apple does business. That's why the company has worked so hard to introduce initiatives like Swift Playgrounds and coding in schools, in addition to making other investments like the recently announced data center coming to Iowa.
Cook also said he believes that the government has become less functional over time and that businesses have a responsibility to "step up" in areas like job creation.
"The reality is that government, for a long period of time, has for whatever set of reasons become less functional and isn't working at the speed that it once was. And so it does fall, I think, not just on business but on all other areas of society to step up."
Apple is focusing heavily on jobs related to apps and coding because it's an area where the company has already created a thriving job economy. Apple says 150,000 new jobs were created through the App Store last year, with $5 billion paid out to developers. The focus is on community colleges because Cook says "the community college system is much more diverse than four-year schools."
He went on to say that Apple is aiming to increase the racial, gender, and geographic diversity of people who are learning to code. "Right now, the benefits of tech are too lopsided to certain states," he said.
During the interview, Cook also commented on Apple's environmental efforts. Apple's upcoming data center in Iowa will run fully on renewable energy, as do all of the company's other U.S. facilities. "We're running Apple a hundred percent on renewable energy today," he said.
Cook's full interview, which covers his thoughts on running for president ("I already have a job"), his coding skills, developers creating Android apps, and more can be read over at The New York Times.
Note: Due to the political nature of the discussion regarding this topic, the discussion thread is located in our Politics, Religion, Social Issues forum. All forum members and site visitors are welcome to read and follow the thread, but posting is limited to forum members with at least 100 posts.