Apple's 'App Development With Swift' Curriculum Expanding to Dozens of Community Colleges
Apple today announced that its App Development with Swift curriculum will now be offered in more than 30 leading community college systems across the United States in the 2017-2018 school year.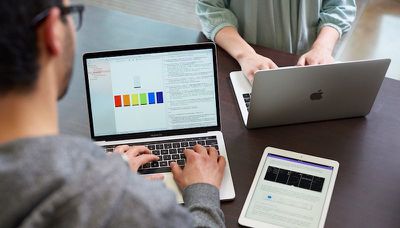 The full-year course, available for free on the iBooks store, teaches students how to build apps using Apple's open source programming language Swift. Apple says the course takes students with no programming experience and enables them to build fully-functional apps of their own design.
"We've seen firsthand how Apple's app ecosystem has transformed the global economy, creating entire new industries and supporting millions of jobs," said Tim Cook, Apple's CEO. "We believe passionately that same opportunity should be extended to everyone, and community colleges have a powerful reach into communities where education becomes the great equalizer."
The community college systems adopting the App Development with Swift curriculum in the fall include Austin Community College District, Northeast Mississippi Community College, Northwest Kansas Technical College, and additional campuses in the Alabama Community College System.
"We're thrilled to have Apple join our mission to make Austin more affordable for people who already live in the city," said Austin Mayor Steve Adler. "Apple is going to be a force multiplier in the community's ongoing efforts to lift 10,000 out of poverty and into good jobs over the next five years."
Austin town mayor Steve Adler said Apple CEO Tim Cook is in Austin today. Cook will visit the Austin Community College District, meet with employees, and speak with local app developers at tech accelerator Capital Factory in downtown Austin, according to the Austin American-Statesman.