Following its May acquisition of sleep tracking product Beddit, Apple has taken over all support for the device.
The Beddit support site, which previously provided customers with a Beddit customer support email address to use, now includes a link that directs customers to instead contact Apple support for any issues. It's not entirely clear when the change was made, but it was noticed today by Bloomberg's Mark Gurman.


Beddit, purchased by Apple earlier this year for an undisclosed sum, is a $150 sleep monitoring system that pairs a pliable under-sheet sleep sensor with an app that's designed to help users analyze and improve their sleeping habits.
The Beddit Sleep Tracker uses ballistocardiography (BCG) to measure the mechanical activity of the heart, lungs, and other body functions, a non-invasive monitoring technology that's similar to the light-based photoplethysmography the Apple Watch uses to monitor heart rate.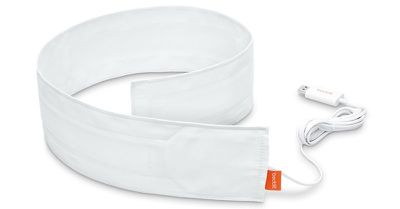 With BCG, when the heart beats, it measures the mechanical impulse generated by the acceleration of the blood through the circulatory system, providing a wealth of data about the body. Beddit tracks metrics like sleep time, sleep efficiency, heart rate, respiration rate, movement, snoring, room temperature, and room humidity.
Since acquiring Beddit, Apple has continued selling the Beddit hardware and is collecting sleep-related data from users. It's not yet clear what Apple plans to do with the Beddit sleep technology, but some possibilities include advancing sleep research for efforts like HealthKit and CareKit to implementing more advanced health tracking and sleep monitoring functionality into the Apple Watch or other future wearable devices.