Apple Acquires 'Beddit' iPhone-Connected Sleep Monitoring System
Apple recently acquired Beddit Sleep Monitor, an app and sleep system designed to monitor daily sleep habits through the iPhone, according to an updated privacy policy posted both on the Beddit website and in the Beddit app when creating an account. A link within the app also directs to the Apple Privacy Policy.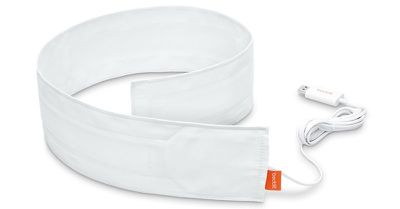 As of May 8, the Beddit privacy policy says the following:
Beddit has been acquired by Apple. Your personal data will be collected, used and disclosed in accordance with the Apple Privacy Policy.
The Beddit 3 Sleep Monitor, which can be purchased from Apple for $150, is a thin, flexible sensor that's designed to be placed under the sheet on the top of a mattress. It collects and analyzes sleep-related data like sleep time and efficiency, heart rate, respiration, movement, snoring, room temperature, and room humidity.
All of the data collected by the Beddit Sleep Monitor is then made available to iPhone users through an accompanying Beddit iPhone app, which provides "personalized insights" and "customizable sleep coaching" to help users improve their sleep habits.


According to the Beddit website, the device uses ballistocardiography (BCG) to measure the mechanical activity of the heart, lungs, and other body functions. When the heart beats, for example, the Beddit sensor can measure the mechanical impulse generated by the acceleration of the blood through the circulatory system.
Based on the changes to the Beddit privacy policy, it appears Apple may have plans to continue selling the device and collecting health-related data from it, which could potentially be used to enhance future versions of products like the Apple Watch.