HomePod Supplies Limited at Launch, but Foxconn Coming on Board in 2018 to Increase Production
Inventec Appliances has been a rumored supplier for Apple's HomePod smart speaker since before the device was announced at WWDC in June, and now the manufacturer has indicated that supplies for HomePod might be limited at launch, in line with most Apple product launches (via Nikkei).
The news came from Inventec Appliances president David Ho during a press conference today. Although his comments never specifically mentioned "HomePod," the estimated time frame given for the release of the product -- late in 2017 -- and its description as a high-profile "smart home device," suggest it to be Apple's upcoming speaker. At WWDC, Apple confirmed that the HomePod would launch sometime in December.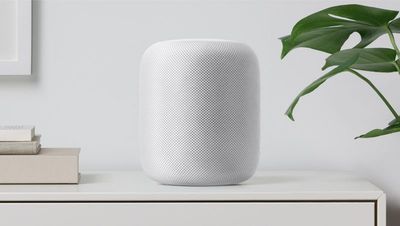 Now, Ho has stated that the HomePod's contribution to the company's revenue for this year will be "fairly limited" -- which is expected given the device is launching so late in the year -- with optimistic improvements to profit gained from HomePod sales predicted for early 2018. One analyst speculated that the number of HomePod units shipped in December 2017 will be around 500,000.

"We will finally ship the smart home device this year, but its contribution will be fairly limited and hopefully that will improve next year," Inventec Appliances President David Ho told analysts and reporters during an earnings conference.

"Inventec Appliances will likely only ship some 500,000 units of HomePod this year, and the device's contribution to the group's revenue will be less than 1%," said Arthur Liao, an analyst at Taipei-based Fubon Securities.
In 2018, Apple will look to open up HomePod manufacturing to more than just Inventec Appliances, according to one of Nikkei's sources, who stated that Apple is planning to add Foxconn into the HomePod supply chain next year. This will result in Inventec Appliances and Foxconn receiving a "split" of HomePod orders and boosting production for the smart home speaker, following the limited initial launch.
Inventec Appliance's total smart home and connected devices shipments are expected to grow to between 70 and 75 million units by the end of 2017, but company officials didn't specifically break down the numbers related to the Apple products it makes.
In addition to HomePod, Inventec Appliances also manufactures Apple's AirPods, which have been particularly difficult for many users to purchase since the wireless earphones launched last December. Earlier in August, the estimated shipping date for AirPods finally lowered to four weeks from six weeks, which had been the shipping estimate for the previous eight months.