Latest HomePod Firmware Discovery Shares First UI Sounds of Apple's Smart Speaker
In the continued release of Apple news originating from developers digging through HomePod firmware, we now have some of the first user interface sounds that HomePod users could be hearing once the smart home speaker launches this December.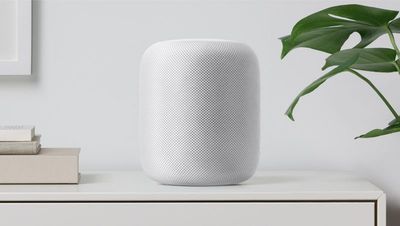 Developer Avery Magnotti discovered the sounds within a file named "audioOS" of the HomePod firmware that Apple released this past weekend. In order of appearance in the file, the sounds are called:

alarm1.wav
Lighthouse.wav
SessionInactive-b238.wav
SetupFinal-b238.m4a
SetupStepSource-b238.m4a
SetupStepTarget-b238.m4a
timer1.wav
TwoShot-b238.wav
WOCAudioPasscodeTone.wav
To hear what the files sound like, Magnotti posted a video on his YouTube channel, sharing samples of each file listed. Alarm1 and Timer1 sound like simple tones that HomePod users might be able to choose from when setting up timers in their kitchens. The rest are a bit more unclear, although each Setup file is likely related to the initial pairing process of HomePod and a user's iPhone.
HomePod firmware-related reveals have been steadily rolling out since Saturday, revealing the
general design of the iPhone 8
, referencing a
"split" status bar
, including
potential new Apple Watch skiing workouts
, and more. Magnotti himself
revealed
yesterday that the HomePod's Siri display measures in at 272 x 340.
The reason that there are so many iPhone and Apple Watch bits of news coming out of the new HomePod firmware is because Apple's smart speaker will run on a modified version of iOS when it launches, and the firmware being investigated by developers relates to iOS 11.0.2. Apple announced the HomePod at WWDC this year, and it will launch this December for $349.