Apple Negotiating to Offer Rentals for Movies Still in Theaters, but at a Price
Apple wants to bring new movies to iTunes more quickly, and is in talks with several film studios over rights that would allow it earlier access to content, reports Bloomberg.
Warner Bros, Universal Pictures, and 21st Century Fox are all seeking deals to offer higher-priced rentals of new movies as soon as two weeks after they debut in theaters, and the studios are said to be considering an offer from Apple.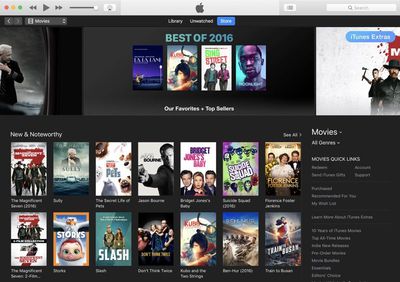 Like Apple Music exclusives, access to earlier releases could draw more people to Apple's platform, but encryption is said to be a concern. Studios aren't sure whether iTunes will be a secure platform for showing movies that are still in theaters, because content can be recorded and leaked online.
The most recent talks are part of longer-running efforts by Cupertino, California-based Apple to get new movies sooner, two of the people said. Such an arrangement could help iTunes stand out in a crowded online market for movies, TV shows and music. While the iTunes store helped Apple build a dominant role in music retailing, the company hasn't carved out a similar role in music and video streaming.
Most major movies that debut in theaters are not available on iTunes and other streaming platforms for a period of 90 days, but film companies are said to be looking to expand beyond theaters to find new revenue streams.
At least one option studios are considering involves a $25 to $50 fee for a new rental, which is potentially more affordable than a movie theater ticket depending on how many people are watching a film.
No deal has been established as of yet, and it's possible the film studios could decide to offer the rights to a competing company.