Disney to Pull Movies From Netflix, Launch New Streaming Services
Disney plans to pull all of its movies from Netflix as it prepares to launch its own streaming services, the company said in its latest earnings report (via CNBC.)
Starting in early 2018, Disney will launch an ESPN video streaming service that will feature approximately 10,000 MLB, NHL, MLS, collegiate, and tennis sporting events every year.
Then, in 2019, Disney will launch a Disney-branded direct-to-consumer streaming service that offers Disney content.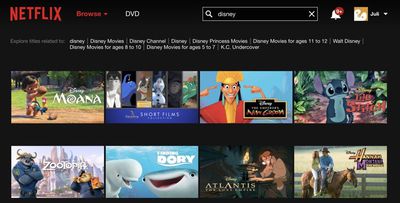 It's not clear when Disney plans to remove its content from Netflix, but in 2012, the two companies inked a deal that saw Netflix getting exclusive access to Disney, Marvel, Lucasfilm, and Pixar films. Currently, there are dozens of Disney movies available on Netflix, like The Chronicles of Narnia, Moana, Zootopia, Finding Dory, The Jungle Book, Pirates of the Caribbean, and more.
The deal, though initiated in 2012, didn't fully go into effect until 2016, so Netflix has only had access to a wide range of Disney content for under a year.
With its huge range of content, Disney stands to become a major competitor to existing streaming services like Netflix and Hulu, and for Apple, this essentially means that if the company ever does manage to launch a streaming service, it may not be able to include any Disney content.