AirPods Now Ship in 4 Weeks, Finally Down From 6 Weeks Estimate Since December
Apple has updated its online store today to indicate that AirPods are now estimated to ship in four weeks in the United States, Europe, and many other regions, down from a six-week estimate listed since launching in December.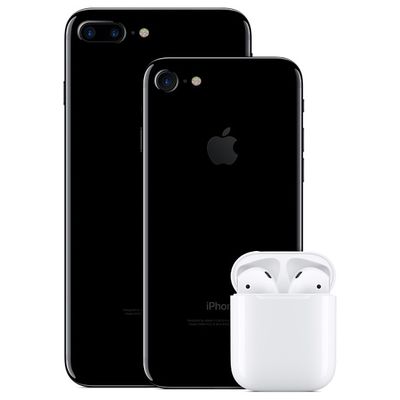 Apple hasn't disclosed AirPods sales numbers, but CEO Tim Cook has routinely said demand continues to significantly outweigh supply. Earlier this week, he revealed that Apple has increased production capacity for AirPods, which has perhaps led to the quicker turnaround time now quoted.
We're also seeing incredible enthusiasm for AirPods, with 98 percent customer satisfaction based on a Creative Strategies survey. We have increased production capacity for AirPods, and are working very hard to get them to customers as quickly as we can, but we are still not able to meet the strong level of demand.
In late December, a few weeks after AirPods launched, Cook said the wireless earphones had been "a runaway success," contributing to a "great holiday" season. Cook cheerfully noted that Apple is making them as fast as it can.
AirPods are Apple's first pair of truly wireless earphones. They instantly turn on and connect to your iPhone, Apple Watch, iPad, or Mac when taken out of their charging case, thanks to Apple's custom W1 chip. Likewise, audio automatically plays as soon as you put them in your ears and pauses when you take them out.
AirPods are controlled mainly by Siri. Doubling tapping an earpiece invokes Siri, and voice commands can be used to adjust the volume, change the song, make a call, and so forth. AirPods deliver up to five hours of listening time on one charge, and a 15-minute fast charge provides up to three hours of listening time.
AirPods have received largely positive reviews, and they earned a 98 percent customer satisfaction rate in a recent Creative Strategies survey.
AirPods can be ordered on Apple's website for $159 in the United States. They're also frequently in stock at resellers such as AT&T and Verizon with delivery to most U.S. addresses in as little as 2-5 days.