Apple May Briefly Drop to World's Third Largest Smartphone Maker For First Time Since 2011
Chinese company Huawei will likely become the world's second largest smartphone maker in the third quarter, based on shipments from July through September, according to Taiwanese publication DigiTimes.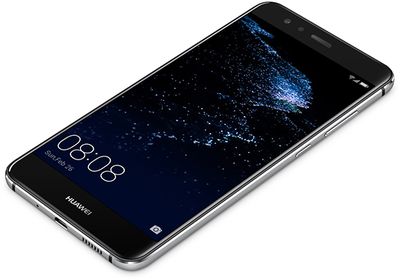 The report, citing sources from Taiwan's handset supply chain, said sales of Huawei's high-end smartphones like the P10 and Mate 9, as well as its more affordable Honor-branded models, have continued to gain momentum. Enough momentum, perhaps, to briefly overtake Apple's iPhone.
Huawei shipped 38.4 million smartphones last quarter, according to research firm Strategy Analytics. Buoyed by seasonal factors, the supply chain sources believe Huawei will continue to ramp up its shipments to over 40 million units this quarter, which could eclipse iPhone shipments over the same period.
Apple reported it sold 41 million iPhones last quarter, but that total could drop slightly this quarter due to frequent rumors about the highly-anticipated iPhone 8, which may lead some customers to delay purchasing a new iPhone.
"We do think that based on the amount of rumors, and the volume of them, that there's some pause in our current numbers," said Apple CEO Tim Cook, referring to iPhone sales. "Where that affects us in the short term, even though we had great results, it probably bodes well later on."
Apple hasn't reported lower iPhone sales in the September-ending quarter versus the June-ending quarter since 2011, however, so if customers truly are holding off, it'll be the first decline over the summer in six years.
It would also be the first time that Apple drops out of the top two spots in smartphone shipments since 2011.
It's quite possible, however, that Apple launches its new iPhone lineup in early September and, in line with the past five years, begins shipping the smartphones to customers by mid month. And given the current quarter doesn't end until September 30, Apple could still outpace Huawei with a few weeks of strong sales.
Even if the launch is delayed, sales of the new iPhone lineup in the following quarter will almost certainly be well above Huawei's.
For what it's worth, Apple probably isn't too concerned about where it ranks in smartphone shipments. First, shipments within distribution channels don't necessarily reflect sales to end customers. Second, Apple cashes in the overwhelming majority of profits in the smartphone industry.
Huawei, on the other hand, will likely feel quite accomplished if it can surpass the iconic iPhone for even one quarter.
The company, based in Shenzhen, China, has set a lofty goal of becoming the world's largest smartphone maker by 2021. It's been making an aggressive push into Europe and Canada, and AT&T has reportedly tentatively agreed to sell at least one flagship Huawei smartphone in the first half of next year.
"Huawei is now closing in fast on Apple and Apple will be looking nervously over its shoulder in the next few quarters," said Woody Oh, Director at Strategy Analytics. "Huawei is outperforming across Asia, Europe and Africa with popular Android models such as the P10 and Mate 9."
Huawei held just 1 percent market share in the United States as of the first quarter, according to research firm IDC.