Huawei Closing in Fast on Apple in Smartphone Sales According to Latest Estimate
Chinese smartphone maker Huawei aims to become the world's largest smartphone maker by 2021, ahead of both Apple and Samsung, and the latest market share data suggests it continues to make progress towards that goal.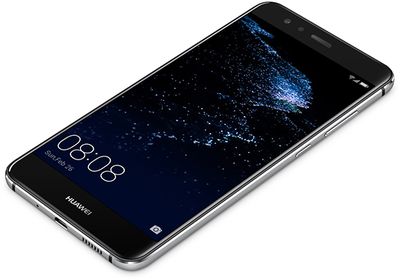 Huawei P10
Huawei shipped an estimated 38.4 million smartphones in the June quarter, a 20 percent increase over a year ago, according to research firm Strategy Analytics. By comparison, Apple reported it
sold 41 million iPhones
in the same period, up nearly 2 percent from 40.4 million iPhones in the year-ago quarter.
Huawei's market share rose to an estimated 10.7 percent in the quarter, putting the Chinese company well within striking distance of Apple's estimated 11.4 percent market share in the quarter. Samsung continued to lead the market with a 22.1 percent share of shipments, according to Strategy Analytics.


"Huawei is now closing in fast on Apple and Apple will be looking nervously over its shoulder in the next few quarters," said Woody Oh, Director at Strategy Analytics. "Huawei is outperforming across Asia, Europe and Africa with popular Android models such as the P10 and Mate 9."
Beyond the iPhone sales numbers, officially reported by Apple, it is important to acknowledge that these are estimated figures, and shipments within distribution channels do not necessarily reflect sales to customers. Apple also captures the vast majority of profits in the smartphone industry.

Third Place
Since 2011, the worldwide smartphone market has been dominated by Apple and Samsung. The elusive third-best spot, meanwhile, has failed to be held down by one vendor for an extended period of time, changing hands between Nokia, BlackBerry, Xiaomi, and Huawei over the past six years.
In 2014, it looked like low-priced Chinese vendor Xiaomi had firmly cemented its position as the world's third-largest smartphone maker, but due to a limited retail presence and declining popularity, Huawei is now firmly in the driver's seat.
Huawei has been making an aggressive push into several European markets, and it's even testing the North American market after launching its smartphones in Canada in June. Huawei isn't well known in the United States, however, largely because it lacks agreements with Verizon, AT&T, T-Mobile, and Sprint.
American customers have to resort to retailers such as Best Buy or Walmart, or Huawei's direct sales website, to purchase one of their unlocked smartphones, reducing the brand's visibility in a country where Apple and Samsung reign supreme.
If Huawei can find success in Canada, then perhaps it will consider tackling the much larger market south of the border next.

Apple's Decline in China
Apple reported revenue of $8 billion in Greater China in the June quarter, a 10 percent decrease compared to the year-ago quarter, and some analysts believe that's partly due to the iPhone's declining popularity in the country.
iPhone market share in China fell to 9 percent in the first six months of 2017, from a peak of 14 percent in 2015, according to Counterpoint Research. iPhone was only the fifth best selling smartphone in China during the June quarter, behind other Chinese rivals like Oppo and Xiaomi, research firm Canalys said.
Apple CEO Tim Cook didn't have much to say on iPhone in China during its post-earnings conference call on Tuesday, but he did comment on the growing popularity of messaging app WeChat, developed by Tencent, in the country.
"In terms of WeChat, the way I look at this is, because iOS share is not nearly a majority of the market in China, the fact that a lot of people use that… it makes the switching opportunity even greater," said Cook. "I think that's more the case than the risk that a lot of folks have pointed out."
"I see Tencent as one of our biggest and best developers," added Cook, who remains optimistic about China. "They have done a great job of implementing iOS features into their apps, and we are looking forward to working with then even more to build even greater experiences for our mutual users in China."
The focus now shifts to the fall, when both Apple and Huawei are expected to unveil new flagship smartphones. Huawei reportedly said its upcoming Mate 10 handset will be able to compete better than ever with the so-called iPhone 8.