Last week, United States President Donald Trump told The Wall Street Journal that Apple had plans to build three "big, big, big" manufacturing plants in the United States, a statement that allegedly came from Apple CEO Tim Cook.
Unsurprisingly, Cook was questioned about the president's statement during the question and answer portion of today's earnings call, and he deftly dodged it by highlighting Apple's overall efforts to increase jobs in the United States.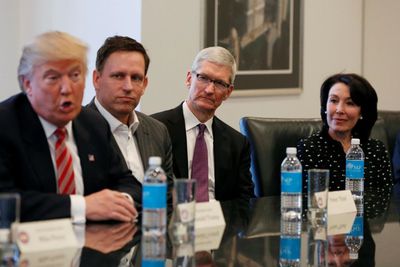 Cook said Apple has created two million jobs in the United States, across three separate categories. The first, responsible for about 2/3rds of those jobs, is the App Store and the Apple developer community.
Cook said Apple is making an enormous effort in this area by encouraging children and college students to get into coding through Swift-based curriculum that's been introduced in schools around the world.
The second category, according to Cook, is Apple's manufacturing purchases. Last year, Apple purchased $50 billion in goods and services from U.S. based suppliers, and has been aiming to increase that. Apple in May announced a $1 billion Advanced Manufacturing Fund meant to encourage innovation among U.S.-based manufacturers. Corning became the first recipient of the fund in mid-May, and Cook says the money will be used to expand the company's Kentucky plant to make innovative glass.
"There are several plants that can benefit from having some investment to grow, expand, or set up ship in the U.S. for the first time," said Cook. "We're excited."
The third category relates to Apple's own facilities in the United States, like its Cupertino-based campuses that employ thousands of employees. Cook didn't have much to say about this category, but he hinted at announcements coming later this year, potentially giving some weight to Trump's statement about job creation.
"Two thirds of our employee base is in the United States, despite only one third of revenue being here," Cook said. "We have some things we'll say about that later in the year."
Cook said that Apple does feel that it has a responsibility to create jobs in the United States. "We do view that we have a responsibility in the United States to increase economic activity and increase jobs. Apple could only have been created here," Cook said.
Note: Due to the political nature of the discussion regarding this topic, the discussion thread is located in our Politics, Religion, Social Issues forum. All forum members and site visitors are welcome to read and follow the thread, but posting is limited to forum members with at least 100 posts.