Last week, the Computer & Communications Industry Association, a lobbying group representing Google, eBay, Amazon, Microsoft, Netflix, Intel, Samsung, and other tech companies, asked the United States International Trade Commission to reject Qualcomm's request for an import ban on some of Apple's iPhone and iPad models that use Intel chips.
The group said that banning Apple products that use Intel chips would enable Qualcomm's anti-competitive behavior and cause supply issues, resulting in harm to consumers.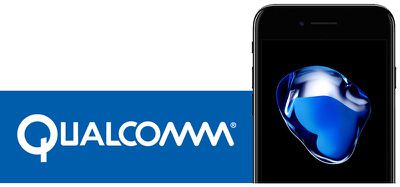 Qualcomm today responded to the CCIA in a court filing, accusing the group of launching a "coordinated effort aimed at misdirecting" the ITC, reports Reuters. Qualcomm also said that the import ban it requested is not focused on Intel's chips, but the patented technology used in iPhones with Intel chips.
In its filing on Monday, Qualcomm argued that its import ban is not actually about Intel's chips, but instead concerns the patented technology that surrounds the Intel chips in current versions of the iPhone. Thus a ban on importing the phones would not hurt competition in the long term, Qualcomm argued. "Apple can purchase and utilize any LTE modem it chooses so long as it does not infringe Qualcomm's asserted patents," the company wrote.
Apple and Qualcomm have been embroiled in an ongoing legal battle following Apple's decision to sue Qualcomm in January for charging unfair royalties and refusing to pay quarterly rebates.
The fight between the two companies has escalated since then, most recently leading Qualcomm to file a patent infringement lawsuit against Apple and request an import ban for some iPhone models.
In a statement to Reuters on Qualcomm's filing this afternoon, Apple once again complained that Qualcomm makes a single chip in the iPhone but "for years [has] been demanding a percentage of the total cost of [Apple] products - effectively taxing Apple's innovation."