Qualcomm CEO Says Out of Court Settlement With Apple Could Happen
Apple and Qualcomm have been embroiled in a bitter legal battle since the beginning of the year, and though the fight has escalated in recent weeks, Qualcomm CEO Steve Mollenkopf today told Fortune that an out of court settlement is not out of the question.
"There's not really anything new going on," Mollenkopf said speaking at the Brainstorm Tech conference in Aspen. About the Apple dispute, he explained "those things tend to get to resolved out of court and there's no reason why I wouldn't expect that to be the case here."
Mollenkopf went on to say that he has no specific news of a settlement and that nothing new has happened in the case. "I don't have an announcement or anything so please don't ask, he told Fortune. Mollenkopf made a similar statement back in February, but that was before the legal battle between the two companies intensified. At that time, he also said he didn't expect a public fight, something Apple and Qualcomm have not been able to avoid.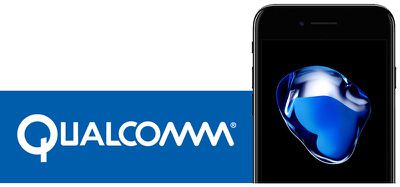 Today's interview suggests Qualcomm is still open to settlement talks, but whether that will happen remains to be seen. If Apple and Qualcomm do not settle, we can expect a legal battle that will continue on for several years.
The fight between Apple and Qualcomm started in January, after the FTC complained that Qualcomm had engaged in anticompetitive patent licensing practices. Apple sued Qualcomm for $1 billion just days later, accusing the company of charging unfair royalties for "technologies they have nothing to do with" and refusing to pay quarterly rebates.
According to Apple, Qualcomm has overcharged it by billions of dollars by "double-dipping" with unfair patent licensing agreements, while Qualcomm claims its innovations are "at the heart of every iPhone" and that the royalties are fair.
Qualcomm went on to countersue Apple in April, accusing the company of breaching licensing agreements, making false statements, and encouraging regulatory attacks against Qualcomm, which prompted Apple to stop making royalty payments to Qualcomm entirely until a court can determine the proper amount due.
Apple in late June expanded its lawsuit against Qualcomm, and at the beginning of July, Qualcomm filed a separate patent lawsuit against Apple and asked the International Trade Commission to block imports of select iPhone and iPad models.