Nearly One in Four Windows Users Surveyed Plan to Switch to Mac Within Next Six Months
Nearly 21 percent of current Windows laptop owners and 25 percent of current Windows desktop owners intend to switch to a Mac within the next six months, according to a recent survey conducted by market research firm Verto Analytics.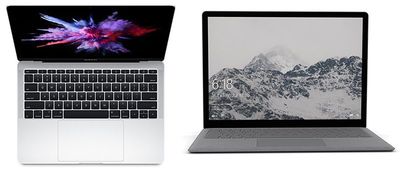 Verto Analytics told MacRumors the survey is based on 6,000 current Windows PC owners age 18 and older in the United States.
Of the respondents, those with an average annual income of $150,000 or more showed the highest likelihood of switching to a Mac.


By comparison, the research firm said at least 98 percent of current Mac owners surveyed intend to stick with Mac as their next computer. In other words, only 2 percent of current Mac users surveyed are planning to switch to another computer brand, be it running Windows or another operating system.
Microsoft is experiencing a resurgence in the post-PC world with an attractive lineup of devices, such as the new Surface Pro and Surface Studio desktop computer, which have even caught the attention of some Apple aficionados.
Last December, Microsoft said more people were switching from Mac to Surface devices than ever before following the supposed "disappointment" of the 2016 MacBook Pro, particularly among professional users.
In April, however, Microsoft said Surface revenue declined 26 percent to $831 million last quarter, down from $1.1 billion in the year-ago quarter. By comparison, Apple reported Mac revenue of $5.84 billion last quarter, a 14 percent increase from $5.1 billion in the year-ago quarter, on the strength of a new MacBook Pro.
Microsoft's new Surface devices should help it combat that decline, while Lenovo, HP, and Dell, the top three worldwide Windows PC vendors, saw shipment growth last quarter, according to market research firm Gartner.