iPhone 8 Expected to Include Faster 10W USB-C Wall Charger
Earlier this year, Apple analyst Ming-Chi Kuo of KGI Securities said the widely rumored 5.8-inch iPhone with an OLED display will feature a Lightning connector with USB-C Power Delivery that enables fast charging capabilities.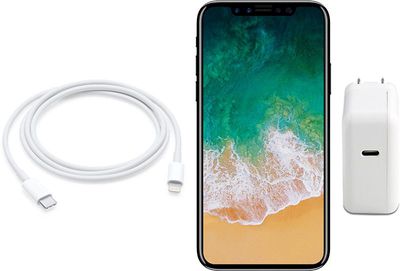 Lending credence to that rumor, Barclays analyst Blayne Curtis today in a research note said the so-called "iPhone 8" will come bundled with a 10W power adapter with a USB-C connector and an integrated USB-C Power Delivery chip.
Curtis said the USB-C Power Delivery chips built into both the iPhone and 10W power adapter will be supplied by Cypress Semiconductor. The research note suggests it'll be the same CYPD2104 chip used in the new 10.5-inch iPad Pro.
An excerpt from the Barclays research note distributed to clients, obtained by MacRumors and edited slightly for clarity:
We believe that in the iPhone 8, Apple likely includes Cypress Semiconductor's USB-C Power Delivery chip in the phone and an additional chip within the power brick in box (likely a new 10W, which would use a more integrated solution with Cypress Power Delivery).
Like the new 10.5-inch and 12.9-inch iPad Pro, the so-called "iPhone 8" would be capable of fast charging with a Lightning to USB-C cable connected to the new 10W power adapter or Apple's 29W USB-C power adapter for MacBook.
Apple will presumably include a Lightning to USB-C cable in the box if it's going in this direction, possibly instead of the traditional Lightning to USB cable. Apple could also opt to include a female USB-C to male USB-A adapter in the box.
Apple's current 5W Power Adapter for iPhone and 12W Power Adapter for iPad both have slower USB-A ports.
Given the "iPhone 8" is expected to have around a 2,700 mAh L-shaped two-cell battery pack, faster charging would be a welcomed addition. The device is also widely rumored to feature wireless charging on top.