AirPods and Apple Watch Called 'Underpriced' to Bring New Users Into Apple Ecosystem
Apple is underpricing AirPods and the Apple Watch in an effort to bring new users into its ecosystem, according to Neil Cybart of Above Avalon. The analyst said this pricing strategy was "unimaginable" ten years ago, when Apple was often accused of pricing products artificially high, aka "Apple Tax."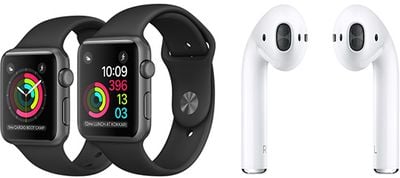 AirPods cost $159 in the United States, which Cybart said is "surprisingly low" compared to competing truly wireless headphones:
It is very difficult to find a pair of wireless headphones priced lower than AirPods. In the run-up to Apple unveiling AirPods this past September, the wireless headphone market consisted of the following players:

- Kanoa: $300
- Bragi Dash: $299
- Erato Apollo 7: $289
- Skybuds: $279
- Earin: $249
- Motorola VerveOnes+: $249
- Samsung Gear IconX: $199
- Bragi Headphone: $149
Cybart believes a strong case could have been made for Apple to price its AirPods at $249, or even $299, but by selling them for $159, he thinks Apple has "removed all available oxygen from the wireless headphone space" and forced competitors to cut pricing in an attempt to better compete.
Earin's wireless headphones now start at $199, for example, while Motorola's VerveOnes+ are on sale for $189.99. Even at those discounted prices, however, AirPods are still cheaper at $159.
AirPods are estimated to ship in six weeks on Apple's online store, and it has been that way since the day after they launched in December.
Cybart said a similar pricing dynamic is found with the Apple Watch, which now starts at $269 for Series 1 models:
At $269, Apple Watch Series 1 is one of lowest-priced smartwatches worth buying in the marketplace. Attractive pricing was one key factor driving record Apple Watch sales this past holiday quarter. In fact, even the Apple Watch Series 2, at $349, is one of the lowest-priced smartwatches in its class:

- [Garmin] Fenix 5: $599
- Garmin Forerunner 630: $399
- Michael Kors Access: $350
- Samsung Gear S3: $349
- Fossil Q Founder: $275
Cybart believes the pricing of the Apple Watch demonstrates how Apple is looking to capture not only the premium segment of the wearables market, but rather the entire market. While an entry-level Apple Watch costs $269, for example, a ceramic Apple Watch Edition costs upwards of $1,249.
His research note theorizes that Apple could be more effective now at mass producing products at a lower cost, while offering price points that appeal to a wider variety of users. Higher-priced Apple Watch SKUs likely offset the lower margins of Apple Watch Series 1 models as well, he said.
He even thinks that an Apple Watch for $199 is "inevitable," although there might be less wiggle room for products such as iPads.
Overall, Cybart thinks Apple is in essence "redefining luxury" by offering lower prices while, at the same time, becoming more of a luxury brand. He expects it to be difficult for other consumer tech companies to compete with that strategy.
Of course, many Apple products are still unquestionably expensive. The latest 15-inch MacBook Pro with Touch Bar starts at $2,399, while an iPhone can cost upwards of $969. The 12.9-inch iPad Pro is priced from $799, and a handful of Apple Watch models run over $1,000. All prices are based on U.S. dollars.
Full Article: The Curious State of Apple Product Pricing on Above Avalon