Apple's AirPods Achieve 98% Satisfaction Rate in User Study
Apple customers who have purchased the AirPods are largely satisfied with the wire-free earbuds, according to a new survey conducted by Experian and Creative Strategies.
Of 942 AirPods owners polled, 82 percent said they were "very satisfied," while another 16 percent said they were "satisfied," for an overall customer satisfaction score of 98 percent.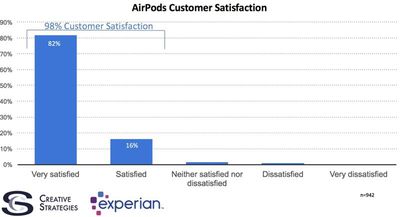 At 98 percent satisfaction, Creative Strategies says the AirPods set the record for the highest level of satisfaction for a new product from Apple. For comparison's sake, the iPhone had a 92 percent customer satisfaction rate in 2007, the iPad had a 92 percent customer satisfaction rate in 2010, and the Apple Watch had a 97 percent customer satisfaction rate in 2015.
Customers were also asked whether or not they would recommend the AirPods to others, and AirPods owners largely said yes, earning the AirPods a Net Promoter Score (explained below) of 75.
We used a standard benchmark question called a Net Promoter Score, which ranks a consumer's willingness to recommend the product to others. This ranking is on a scale of 0 to 10 with 10 being extremely likely to recommend and 0 being not likely at all to recommend. It was this number that surprised me. Apple's Net Promoter Score for AirPods came back as 75. To put that into context, the iPhone's NPS number is 72. Product and NPS specialists will tell you anything above 50 is excellent and anything above 70 is world class.
When asked to explain the ranking they gave, customers used words like magic, fit, sound quality, convenient, love, good sound, and battery life, and cited benefits like the simple pairing process, and the convenience of a wireless experience. Negatives included issues with fit and connectivity.


In a series of general sentiment questions, 82 percent of survey respondents strongly or somewhat agreed that AirPods are their favorite recent Apple product, while 62 percent said they consume more audio with the AirPods. 82.5 percent wanted more control over content, like turning the volume up or changing a song, and 84 percent said that using one AirPod makes sense in certain situations.
Apple's AirPods, priced at $159, first went on sale in October, but are still hard to track down even today. Current shipping estimates suggest orders placed today will not arrive for six weeks, while in-store pickup estimates offer June 20 as the earliest possible pickup date.