Tim Cook Appears Onstage at Cisco Live to Debut New Enterprise Security Partnership
Apple CEO Tim Cook took the stage at Cisco Live in Las Vegas today, sitting down with Cisco CEO Chuck Robbins to discuss the ongoing partnership between the two companies that has leveraged Apple's expertise in devices and apps and Cisco's strength in networking and enterprise tools.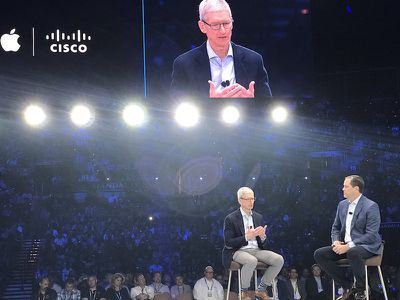 During the session, Cook argued that business customers who use the integrated Apple-Cisco ecosystem should be granted a benefit in the form of lower cybersecurity insurance premiums,
reports Reuters
.
"The thinking we share here is that if your enterprise or company is using Cisco and Apple, that the combination of these should make that (cyber-security) insurance cost significantly less," Cook said. "This is something we're going to spend some energy on. You should reap that benefit."
Cisco also announced its upcoming Cisco Security Connector program for iOS devices, launching later this year.
Expected to be released in the fall of 2017, the Cisco Security Connector is designed to deliver the deepest visibility, control, and privacy for iOS devices. The Cisco Security Connector offers organizations the most granular view of what is happening on enterprise-owned mobile devices and provides the best protection for users, anywhere they travel. With the Cisco Security Connector, businesses will now have the ability to meet risk and compliance requirements from auditors and ultimately expand iOS adoption in new ways. [...]

With the Cisco Security Connector, organizations gain the following:

- Visibility: Ensure compliance of mobile users and their enterprise-owned iOS devices during incident investigations by rapidly identifying what happened, whom it affected, and the risk exposure.
- Control: Protect users of iOS devices from connecting to malicious sites on the internet, whether on the corporate network, public Wi-Fi, or cellular networks.
- Privacy: Safeguard corporate data and users by encrypting internet (DNS) requests.
Cisco says it collaborating with insurance companies on "more robust policies" for customers taking advantage of continuous security monitoring based on technologies from Apple and Cisco.