Apple Acquires German Eye Tracking Firm SensoMotoric Instruments
Apple has almost certainly acquired German computer vision company SensoMotoric Instruments, a provider of eye tracking glasses and systems, based on evidence compiled by MacRumors.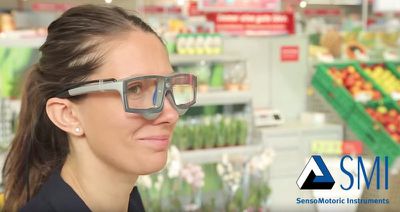 On May 2, Apple's vice president of corporate law Gene Levoff, representing Delaware-based shell company Vineyard Capital Corporation, granted power of attorney to German law firm Hiking Kühn Lüer Wojtek to represent Vineyard Capital Corporation in all business related to the acquisition of SensoMotoric Instruments.


On June 16, SensoMotoric Instruments filed several documents with the German Company Register outlining new articles of incorporation. SensoMotoric's previous managing director Eberhard Schmidt was replaced by Dr. Ali Sahin, one of the German attorneys representing Vineyard Capital Corporation.
Vineyard Capital Corporation is listed as having acquired all company shares of SensoMotoric Instruments.
Apple takes steps to hide its acquisitions through shell companies, which essentially only exist on paper, but Levoff's signature on one of the documents is a clear giveaway that Vineyard Capital Corporation is Apple. Levoff even notarized the document in Cupertino, California, where Apple is headquartered.
SensoMotoric Instruments recently updated its website, removing over a dozen pages with detailed information about its products. The website also no longer has a jobs portal, news blog, schedule of events and workshops, contact information, list of distributors and resellers, or mailing list signup form.
An archived version of the website from last week indicated the company was hiring, but the current version does not. Schmidt's name and headshot have also been removed from the website now that he is no longer managing director. Christian Villwock, Director of OEM Solutions Business, was also removed.
The acquisition is backed up by an anonymous tipster, who told us that he allegedly spoke to an Apple employee today who said the deal has been completed. Additionally, one of SensoMotoric's clients informed us that they have been attempting to contact the company for several weeks without hearing back.
Apple and SensoMotoric Instruments did not respond to multiple requests for comments. SensoMotoric's phone line was out of service.
SensoMotoric Instruments, founded in 1991, has developed a range of eye tracking hardware and software for several fields of use, including virtual and augmented reality, in-car systems, clinical research, cognitive training, linguistics, neuroscience, physical training and biomechanics, and psychology.
The company's Eye Tracking Glasses, for instance, are capable of recording a person's natural gaze behavior in real-time and in real world situations with a sampling rate up to 120Hz. As seen in the video below, one possible use case is for athletes looking to evaluate and improve their visual performance.
SensoMotoric has also developed eye-tracking technology for virtual reality headsets such as the Oculus Rift, which can analyze the wearer's gaze and help to reduce motion sickness, a common side effect of VR. The solution can also allow for a person's gaze to control menus or aim in a game with their gaze.
SensoMotoric's other eye-tracking solutions include standalone devices, such as the RED250mobile, which allows saccade-based studies to be conducted at 250Hz for researchers who require both mobility and high sampling rate.
Apple has reportedly prototyped a pair of "smart glasses" that would connect to an iPhone and display "images and other information" to the wearer, and SensoMotoric's eye-tracking technology could feasibly play a role in that product alongside solutions from Apple's other acquisitions like Faceshift.
Apple CEO Tim Cook has also repeatedly expressed a "profound" interest in augmented reality, calling the technology "a big idea" like the smartphone. He said augmented reality should "amplify" human contact, but noted "there are things to discover before that technology is good enough for the mainstream."
With iOS 11, Apple is delving into augmented reality in a big way, introducing an ARKit development platform that will allow developers to quickly and easily build augmented reality experiences into their apps and games.
SensoMotoric Instruments is headquartered in Teltow, Germany, near Berlin, and its website said it had an office in Boston as well. It's unclear if the company and its roughly 60 employees, according to LinkedIn, will merge within Apple or remain an independent subsidiary. Financial terms of the deal are unknown.
Eric Slivka contributed to this report.
Update: "Apple buys smaller technology companies from time to time, and we generally do not discuss our purpose or plans," an Apple representative said in a statement to Axios, essentially confirming the deal.