New Apple Park Drone Video Shows Off Steve Jobs Theater as Lobby Lights Up
Drone videographer Duncan Sinfield has posted a new video on his YouTube channel today, giving viewers a fresh look at Apple Park as a small number of employees begin settling into the campus and more buildings take shape. It's been nearly two years since Sinfield originally started providing monthly drone footage for what was previously referred to as "Apple Campus 2."
Now, Sinfield's late June 2017 update provides a glimpse into Apple's ongoing construction progress at Apple Park, including a noticeable progression in the number of trees and other pieces of greenery within the "spaceship" building's circular courtyard. Early on in the video, viewers can also catch a shot of the main atrium of Apple Park, with its floor-to-ceiling glass doors that originally began to take shape in November 2016.
Notably, the new drone footage provides one of the best looks yet into the Steve Jobs Theater, with Sinfield gathering footage of the campus auditorium as lights turn on inside. The lobby of the theater is visible in the video, thanks an all-glass construction that offers visitors a 360-degree view of Apple Park. On two sides of the lobby, spiraling stairs lead downward to the underground auditorium where Apple will host future events.
In last month's drone video update, provided by Matthew Roberts, the Steve Jobs Theater still had multiple window coverings and construction equipment housed inside, so Apple is making fast progress on the building. The company has yet to confirm when the auditorium will officially open, but it's expected to sometime later in the fall.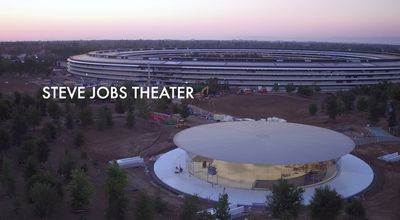 The Steve Jobs Theater is capped with the world's largest freestanding carbon-fiber roof, and sits atop a hill at one of the highest points of the 175-acre campus. When Apple announced Apple Park's official name back in February, along with the new name for the auditorium, CEO Tim Cook commemorated Jobs and the new Steve Jobs Theater by saying, "Steve's vision for Apple stretched far beyond his time with us. He intended Apple Park to be the home of innovation for generations to come."