Apple Campus 2 'Theatre' Features Largest Freestanding Carbon-Fiber Roof Ever Made
Apple's progress on its second campus has been tracked by drone videos and ongoing construction updates, but the company recently gave Mashable details on the new location, sharing impressive photos and inside information on the main ring-shaped structure and surrounding buildings like the auditorium.
As we know, Apple's new campus features massive curved glass windows to give the building an open feel. Outfitting the campus in curved glass requires 3,000 panels, each of which is 46 feet long and 10.5 feet wide, and getting those panels into place required Apple to build custom machines it calls "Manipulators."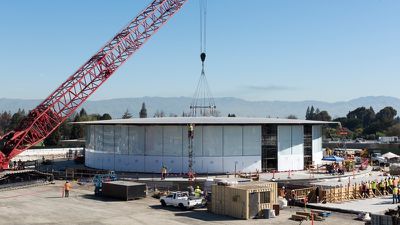 Apple Campus 2 Theatre


Mashable got a first look at the "Theatre," the 120,000 square-foot underground auditorium where Apple will host future events. Designed to seat 1,000 people, the Theatre lobby is made of glass that offers 360-degree views of the campus with stairs down to the event area. According to Apple, the roof is the most impressive part of the auditorium. It weighs 80 tons and was assembled in Dubai before being shipped in pieces to California.

Apple Campus 2 Theatre roof
But perhaps the most stunning addition is its roof, which Apple believes is the largest freestanding carbon-fiber roof ever made. Created by Dubai-based Premier Composite Technologies, it's a massive statement piece, in addition to a design feat. But please, Apple doesn't want you to call it a UFO. The roof was added to the Theatre last month.

The circular roof is made up of 44 identical radial panels averaging 70 feet long and 11 feet wide, and each connects to a small central hub positioned in the middle.
There are many unique elements included in Apple's second campus, and a 60,000 square-foot restaurant inside the ring-shaped building is no exception. Designed to house 2,800 employees inside and 1,200 on an outside patio, the restaurant will feature two glass doors that are four stories high.
Apple expects construction on its campus to be finished at the end of 2016, which is right on schedule. Tim Cook said in a past interview that employees will begin moving into the building in January of 2017.
The full set of photos from Apple Campus 2 are available over at Mashable and are worth checking out for those interested in a close-up look at the new campus.