Apple Adds Phobio as New Mac Trade-In Partner
Apple today updated its Mac recycling program to partner with a new company, replacing longtime partner PowerOn with Phobio, a company that promises a seamless device buyback program. Apple's recycling program is designed to offer Apple users cash for their old devices by providing simple trade-in options.
Starting today, when you use Apple's Renew and Recycling program to recycle a Mac desktop or notebook, Apple will now direct you to Phobio's site where you can find your Mac by entering a serial number. After answering a couple of questions about condition, Phobio offers up a price estimate and lets users choose an Apple Store Gift Card, Paypal, or Virtual Visa Reward as a payment option.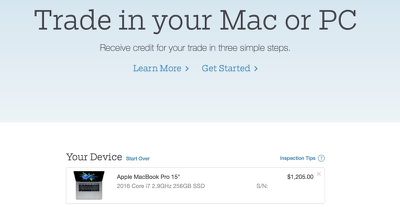 According to a source that spoke to MacRumors about the partnership change, Apple opted to go with Phobio because the site offers higher trade-in values, is easier to navigate, and provides an option for cash payments alongside Apple Store Gift Cards, something that wasn't available via PowerOn.
Based on our testing, Phobio and PowerOn offer similar trade-in values for many machines, with PowerOn offering a slight edge in value for newer Macs, while Phobio seems to have slightly better pricing for some older models.
Apple is only partnering with Phobio for Mac trade-ins at the current time. For PC trade-ins, Apple continues to work with PowerOn, and for iPad and iPhone trade-ins, Apple is still using longtime partner Brightstar.