Apple Working With Health Gorilla to Offer Comprehensive Medical Records on iPhone
In its quest to turn the iPhone into a comprehensive health repository for every iPhone user, Apple has teamed up with Health Gorilla, a company specializing in aggregating diagnostic information, reports CNBC.
Citing two sources familiar with Apple's plans, CNBC says Apple is working with Health Gorilla to add diagnostic data to the iPhone by cooperating with hospitals, imaging centers, and lab-testing companies. According to Health Gorilla's website, the startup offers a secure clinical network that aggregates health data from a range of providers, offering doctors and hospitals access to a comprehensive overview of a patient's health.
While the service is aimed at medical providers, patients are also able to use the service to get a copy of their medical records "in 10 minutes."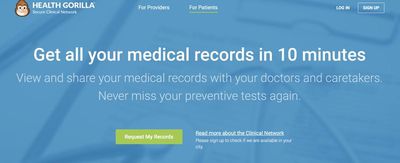 Access your complete health profile in one place, from prior medical history, to doctor and specialist referrals, to your latest test results. It's all available through Health Gorilla's secure clinical network, anytime - from your computer or your favorite device on the go.

Thousands of physicians, specialists, labs, clinics, health centers, hospitals, and other facilities are already connected to Health Gorilla. Reach them easily, and securely share information with everyone in your care circle - whether medical professionals or family and loved ones.
Last week, CNBC said Apple has a "secretive team" within its health unit that has been communicating with developers, hospitals, and industry groups with the aim of storing clinical data on the iPhone and turning it into a "one-stop shop" for medical info.
Apple wants to create a centralized database for all of a person's health data, which would allow the medical community to overcome existing barriers that often prevent or complicate the transfer of patient data between providers, ultimately resulting in better care for patients.
Through Health Gorilla, the Health app on the iPhone could perhaps include a range of data sourced directly from different health providers in the future, offering up blood work results, x-rays, physical therapy information, and more.
In addition to allegedly working with Health Gorilla, Apple is also said to have hired several developers familiar with the protocols dictating the transfer of electronic health records, and it has also talked with several health IT industry groups dedicated to universal medical records, including The Argonaut Project and The Carin Alliance.
Integration of detailed health records would make the Health app, which already aggregates medical data and health information from the Apple Watch and other connected devices, an even more valuable resource for iPhone users.