Apple Aiming to Make iPhone 'One-Stop Shop' for Medical Info
Apple wants the iPhone to serve as a comprehensive health repository for every iPhone user, keeping track of medical data like doctors visits, lab results, medications, and more, reports CNBC.
Apple is said to have a "secretive team" within its health unit that has been communicating with developers, hospitals, and other industry groups about storing clinical data on the iPhone. With all of their medical data at their fingertips, iPhone users would have a better overall picture of their health, which could also be readily shared with doctors.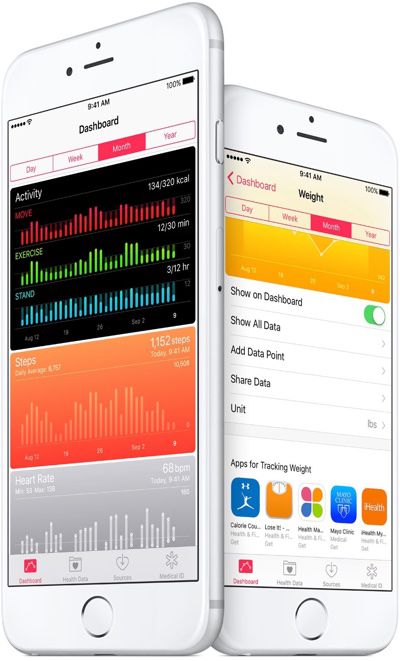 Apple has been hiring developers familiar with protocols dictating the transfer of electronic health records and has talked with several health IT industry groups, including "The Argonaut Project," which promotes the adoption of open standards for health information, and "The Carin Alliance," a group aiming to give patients more control over their medical data. According to CNBC, Apple VP of software technology Bud Tribble has been working with the latter group.
Apple is also rumored to be looking at startups in the cloud hosting space for acquisitions that would fit into its health plan.
Essentially, Apple would be trying to recreate what it did with music -- replacing CDs and scattered MP3s with a centralized management system in iTunes and the iPod -- in the similarly fragmented and complicated landscape for health data.

Such a move would represent a deviation in strategy from Apple's previous efforts in health care, the people said, which have focused on fitness and wellness.
A centralized way to store all of a person's health data would allow the medical community to overcome existing barriers that prevent the transfer of patient information between medical providers. Hospitals and doctors offices often don't have a simple way to transfer patient information, and online medical portals are sometimes difficult to use with little info available to patients,
Apple already allows iPhone users to record medical data and health information gathered by the Apple Watch and other connected devices in the built-in Health app, and it has delved into health research with CareKit and ResearchKit, but based on these rumors, the company's goal is to expand its health efforts far further in the future.