10.5-Inch iPad Pro Reviews: Impressive Screen and Hardware Update That Will Improve With iOS 11
One week after Apple introduced the new 10.5-inch iPad Pro at the WWDC keynote in San Jose, California, reviews for the device have begun circulating online. The 10.5-inch iPad Pro has replaced the 9.7-inch device, offering a larger display with 40 percent smaller bezels, ProMotion display technology with refresh rates of up to 120Hz, a 12-megapixel rear camera with optical image stabilization, and more.
In its review, TechCrunch points out that the overall impressiveness of the 10.5-inch iPad Pro is largely dependent upon the device running iOS 11 -- which includes an array of iPad-specific updates. Of course, the new software won't launch until the fall, well after the 10.5-inch iPad Pro arrives to first adopters this week, but TechCrunch called it an "amazing" iPad when it does run iOS 11, saying that, "It pays off years of setup in ways that come home when you see how well iOS 11 works."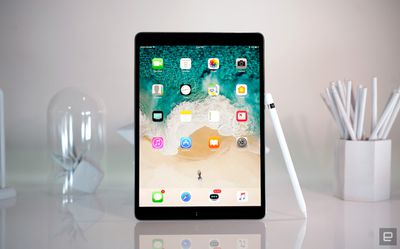 Image via Engadget
Even without iOS 11 the site did enjoy the new screen size, noting that it hit the sweet spot in terms of tablet form factor, and going so far as to say that Apple may decide to drop the 12.9-inch iPad Pro at some point: "I'd expect to see all iPads at 10.5 inches at some point. It's just the right size."
TechCrunch
ultimately concluded that, with the debut of the 10.5-inch iPad Pro, "the iPad is a full-fledged computer."
Science fiction movies and books have for decades displayed tablets as the future of mid-range computing. And it makes sense. In a world of artificial intelligence, greater mobility and voice-first systems, a keyboard feels stupid and archaic.

With the iPad Pro, especially when it's armed with iOS 11, it's beginning to feel possible to see Apple in this world. The combination of custom silicon, a still robust and specifically attuned software ecosystem and a focus on security, Apple has everything it needs to make a strong showing here.

Whether it leads to future growth of the category I don't yet know – but this particular recipe is coming to maturity. The iPad is a full-fledged computer, and you can argue against it but you're going to increasingly sound like an idiot.
One of Ars Technica's favorite additions to the 10.5-inch iPad Pro is the device's screen and its refresh rate, which has been bumped up from 60Hz to 120Hz. Apple calls the technology behind the refresh rate bump "ProMotion," and it allows for overall smoother animations and motions on the iPad's display, creating a better user experience and reducing input lag. When the iPad doesn't need a full 120Hz refresh rate, it can dip to as low as 24Hz, "and pretty much anywhere in between," in order to save battery life.

As for how it is to use a 120Hz display, I can say that it's undeniably slick and it makes animations and transitions look great; it's also easier to read text and scroll simultaneously, since the "ghosting" effect you get at 60Hz is much-reduced. None of the display improvements that Apple has made post-Retina—an ever-longer list that now includes the DCI-P3 color gamut, True Tone, and ProMotion—have had quite as big an impact as those sharper screens did, but the 120Hz refresh rate comes close. The sooner this trickles outward to the iPhone and Apple's various Macs, the better.
Ars Technica called the new display, "The best screen Apple ships," and hopes for Apple to soon introduce the technology into iPhone and Mac sometime in the future. The site also dove deep into performance tests of the new iPad Pro, noting that single-core performance was up 25 percent with the A10X chip, while multi-core performance improved by nearly 80 percent, "If you're using an app that can hit all three of the high-performance CPU cores at once."
The Verge got between 8 and 9 hours of battery life on the 10.5-inch iPad Pro, describing the tablet as a "stupendous device" that most people should probably not buy at launch. The site explained the expensive price point an iPad Pro becomes to turn it into a main computing device, including extra-cost accessories like Apple Pencil, Smart Keyboard, and upping storage, while also continuing the theme of many reviews posted today about the new iPad: it's launching too early.
Now that we know that the 10.5-inch iPad Pro is an impressive device and that we further know that iOS 11 is going to radically change how you use it, let's get back to that value equation I mentioned earlier. Basically, should you buy it? The iPad Pro 10.5 presents a conundrum: it is a stupendous device that I firmly believe most people shouldn't buy just yet.

If you're going to spend that much money on an iPad, you should know exactly what you're going to do with it that takes advantage of all the Pro features. There are people who are already doing that, but I don't think the majority of computer users can be comfortable using an iPad as their main device. For those who can, go out and buy the hell out of this thing (unless you already have the iPad Pro 9.7).

For the rest of us, my advice is to hold out and see whether iOS 11 changes the calculus.
There are a wealth of other opinions about the 10.5-inch iPad Pro to read today, including reviews posted from the following sites: Engadget, The New York Times, BuzzFeed, Business Insider, MacStories, CNET, and The Loop. For other WWDC-related review roundups, check out the first impressions of the new MacBook and iMacs, as well as opinions on HomePod.