Cases for Upcoming 10.5-Inch and 12.9-Inch iPad Pro Reveal Stereo Speakers, Centered Rear Microphone
A collection of new images today claim to show cases for Apple's upcoming 10.5-inch and 12.9-inch iPad Pro devices. The 10.5-inch iPad Pro is believed to be an update similar in vein to the iPhone 8, with a size that remains close to that of the 9.7-inch iPad Pro, but includes a larger 10.5-inch display thanks to shrinking bezels.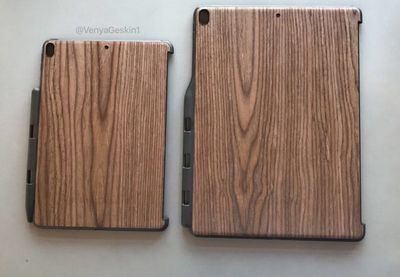 Benjamin Geskin has
shared
the iPad Pro accessory images on Twitter today, showing off cutouts for the Lightning port, speaker grilles, microphone, and vertically-aligned camera. The microphone cutout is placed on the top rear of both new iPads, similar to its location on the newest 9.7-inch iPad. For the current 12.9-inch models, however, the microphone cutout sits on the right side of the iPad, above the volume buttons.


The cases include multiple large cutouts for what appears to be four speakers, with two on top of the case and two on the bottom surrounding the Lightning port. This suggests that the 10.5-inch iPad is likely to continue supporting the stereo audio system of the iPhone 7 and 9.7-inch iPad Pro update. The wood cases also include side inserts for Apple Pencil storage.


Also on top of the case is the expected cutout for the lock button, and the 3.5mm headphone jack will still be included on the 10.5-inch and 12.9-inch iPad Pros launching this year, according to the new cases. Volume rockers remain on the traditional right side of the iPad cases, as well.


With production on the 10.5-inch iPad reportedly ramping up, the device could debut as early as WWDC, which takes place two weeks from today. For the smaller-screened iPad mini, recent rumors have suggested that Apple might discontinue the devices due to likely cannibalization from the 5.5-inch iPhone Plus devices. According to Geskin, the iPad mini will remain off of Apple's update list -- for 2017 at least -- with his Tweet stating, "No new iPad mini this year."