Apple CEO Tim Cook Spotted Testing Apple Watch-Connected Glucose Monitor
Apple CEO Tim Cook has allegedly been spotted testing a prototype glucose monitor that's connected to his Apple Watch, reports CNBC. Cook, who is said to be aiming to understand how his blood sugar is affected by food and exercise, has been seen wearing the device around the Apple Campus.
Cook also mentioned the glucose monitor in a February meeting with students at the University of Glasgow. It's not clear if the device he spoke of in Glasgow is the same one he's been wearing around the Apple campus.
"I've been wearing a continuous glucose monitor for a few weeks," he said. "I just took it off before coming on this trip."

Cook explained that he was able to understand how his blood sugar responded to foods he was eating. He made modifications to keep his blood sugar more constant.
Current continuous glucose monitoring systems require a small sensor that's worn under the skin to monitor glucose levels. Advanced systems from Dexcom include a transmitter, which can display glucose information directly on an iPhone or Apple Watch.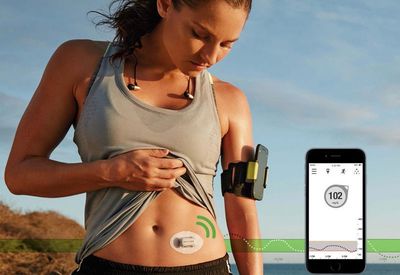 An iPhone-connected Dexcom continuous glucose monitoring system
Rumors have suggested glucose monitoring is the next major health issue Apple is aiming to tackle. The company is said to have a
team of biomedical engineers
working on developing sensors for non-invasively monitoring blood sugar levels. Apple is allegedly working on a continuous monitoring solution that would not require an under-skin sensor.
Apple's glucose testing is reportedly far enough along that the company has started conducting feasibility trials at clinical sites in the San Francisco Bay Area, and consultants have been hired to sort out regulatory issues.
According to a recent rumor from BGR, Apple could be planning to add a non-invasive glucose monitoring sensor to a future version of the Apple Watch, perhaps through the addition of a smart band that would add functionality to the Apple Watch without requiring the sensor to be built into the watch.
Cook has said in the past that Apple does not want to put the Apple Watch through the FDA approval process, something that would need to happen for Apple to introduce a glucose monitor, so a modular add-on smart band could be an ideal solution for adding more advanced health tracking features without subjecting the Apple Watch itself to FDA oversight.