LG's UltraFine 5K Display has received a 2017 TIPA Award as the "best photo monitor," the company announced today.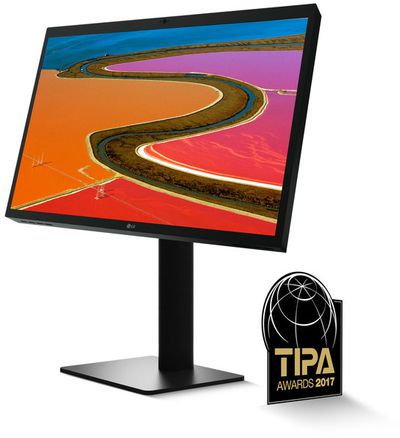 TIPA on its website said the display "brings professional photos and videos to life" with 5K resolution, while it also praised the display's single-cable Thunderbolt 3 connectivity and DCI-P3 wide color support. TIPA said the display reflects a "good demonstration of LG's expertise" with an "eye to the future."
TIPA, short for the Technical Image Press Association, is made up of a group of editors from 27 photography and imaging magazines worldwide. Editors from the magazines met in Havana, Cuba earlier this month to vote on the best imaging products of 2017, and the UltraFine 5K was the only display to win an award.
The award is somewhat humorous given that LG's UltraFine 5K Display suffered from a shielding-related manufacturing defect that caused the display to glitch or turn off when in close proximity to a Wi-Fi router or, in some cases, even a MacBook Pro. LG has since fixed the issue and replaced affected displays.