New 'Server-Grade' iMac With Next-Gen Xeon Processor Coming End of 2017
Apple's new range of iMacs will launch in the second half of 2017 and will include a "server-grade" model to cater for the high end creative professional market, according to Taiwan-based supply chain sources.
Apple has already confirmed it is working on new iMac models for release later this year, but today's report offers another hint at what could be in store for creative pros and puts a more specific timeframe on those plans. According to the report, production of two new iMacs is said to begin next month, with a view to launching the consumer desktops between July and September and a "server-grade model" at the tail end of 2017.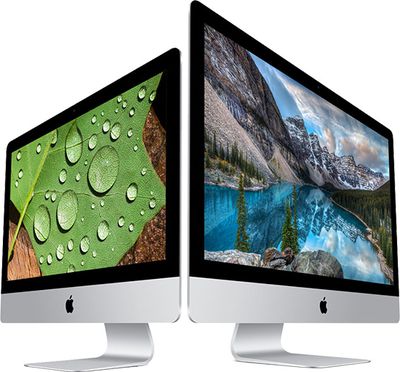 Apple currently has a 21.5-inch and a 27-inch iMac available in the market and the new products are expected to be the upgrades of the two models and are expected to hit the market in the third quarter to catch up with the year-end holiday season.
The report comes from DigiTimes, which has a mixed track record when it comes to rumors, but with Apple already having taken the unusual step of confirming it is working on new iMac models for a late 2017 release, this latest information presents a reasonable timeline.
In addition, the technical details from the supply chain line up with previously leaked specs for Apple's upcoming upgrades. According to Tuesday's report, the high end iMac will feature Intel's as-yet-unreleased Xeon E3-1285 v6 processor, options for 16 to 64GB error-correcting ECC RAM, up to 2TB NVM Express PCI-e solid-state storage, and more ambiguously, a "latest discrete graphics card".
Typically, iMacs include a mobile-class GPU rather than a desktop-class card, so this last spec could refer to either, while AMD has a contract with Apple to supply the discrete graphics chips for future high-end 27-inch iMacs. The new iMacs for 2017 are said to be manufactured by Quanta Computer, which is expected to remain the largest all-in-one PC maker in 2017.
The earlier report detailing identical tech specs claimed Apple's new iMacs would be accompanied by a brand new keyboard. A previous report said Apple was exploring a standalone keyboard with a Touch Bar and Touch ID, but its release is said to depend on how well those features have been received on the latest MacBook Pro.
The original source of the iMac tech specs, Pike's Universum, also claimed Apple is working on an 8K external display, which would presumably feature as part of the company's highest end iMac offering. All iMacs are expected to ship with USB-C ports and Thunderbolt 3 connectivity.