Cyber security company F-Secure has acquired Little Flocker, the behavioral analysis-based monitoring app for Macs, developed by iPhone forensics expert and security researcher Jonathan Zdziarski, who joined Apple last month.
The Helsinki-based firm announced the news in a press release posted to its site, where it revealed that Little Flocker would be built into a new security product it's releasing, called XFENCE.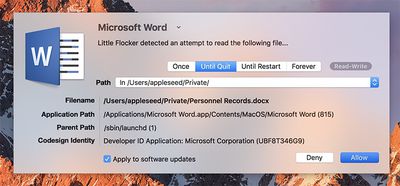 Little Flocker protects Macs by using advanced behavioral based analysis, and monitors apps that attempt to access confidential files and system resources. It also detects and blocks Mac ransomware. F-Secure will build Little Flocker's next-generation security engine into its new XFENCE technology. XFENCE will complement F-Secure's existing endpoint solutions to provide advanced behavioral Mac protection for both corporate and consumer customers.
F-Secure said that the "myth" of Macs not requiring protection against ransomware, backdoors, and other software was fading away, due to "Apple's popularity among senior-level employees and other high-value targets". By acquiring Little Flocker, it said it hoped to further enhance its products' existing cyber security capabilities for the sophisticated detection of zero-day attacks.
For businesses, the core technology is to be combined with F-Secure's security cloud and packaged into its Protection Service for Business, a security solution with centrally managed computer, mobile and server security with integrated patch management and mobile device management. Consumer customers can make use of the Flocker technology with F-Secure Safe, the company's multi-device security product.
Little Flocker developer Zdziarski announced in March that he was joining Apple's Security Engineering and Architecture team. Known as "NerveGas" within the jailbreaking community, Zdziarski had provided input on a number of important iOS-related security matters over the years, including Apple's high-profile battle with the FBI over unlocking an iPhone used by a shooter in the 2015 San Bernardino attack.