Apple Music Beats Spotify in Monthly Unique Users Thanks to 3-Month Free Trial
Apple Music doesn't have the highest number of paid subscribers compared to Spotify, but it does have an edge up on its competitors -- a higher number of monthly unique users on mobile devices, thanks to its generous three-month free trial.
According to a recent report published by mobile analytics firm Verto (via TechCrunch), Apple Music had 40.7 million unique monthly mobile users during February of 2017. Verto only tracks Apple Music usage on mobile devices, so Apple's unique monthly user number could be higher.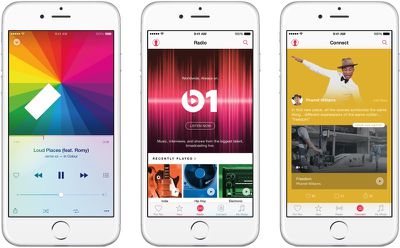 Comparatively, streaming radio service Pandora had 32.6 million unique monthly users during February, while Spotify had 30.4 million. iHeartRadio saw the fourth highest number of monthly visitors on mobile at 28.5 million, while SoundCloud came in fifth with 25.7 million. For Spotify, Pandora, iHeart Radio, and SoundCloud, mobile and PC visits are counted.
According to Verto, which gathers its data from 20,000 users in the UK and US and then pairs it with analytics information, Apple Music has the most monthly unique users due to the three-month free trial the company offers, which doubles the number of people that are using the Apple Music app in the United States.

Click to enlarge


Apple has long offered three months of free music streaming when a user first signs up for Apple Music, two months longer than the trial period offered by Spotify.
As of December 2016, Apple Music has more than 20 million paid subscribers, a number that's been growing steadily since the service launched in 2015. Spotify, meanwhile, reached 50 million paying subscribers earlier this month.
Despite its lead over Apple Music, Spotify is taking cues from Apple. Earlier today, Spotify announced plans to debut an original show called "Traffic Jams," a copy of the "Carpool Karaoke" show Apple plans to launch on Apple Music.
Similar to Carpool Karaoke, in which celebrities and musicians will sing hit songs while in a car, Traffic Jams pairs well-known hip-hop producers and rappers, challenging them to produce a track in the backseat of a car.