Twitter is said to be "considering" whether to implement an all-new paid subscription tier that would be introduced in a premium package for TweetDeck, Twitter's popular desktop client, and be aimed directly at professionals (via Reuters). If enacted, this would be the first time Twitter charges users for any part of its social media services, which began eleven years ago in March of 2006.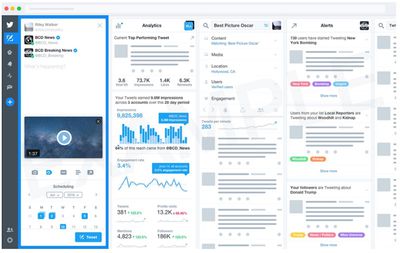 A mockup of what the premium TweetDeck subscription service could look like
Twitter is looking at providing a professional experience for people on TweetDeck that would pack in advance tools and features not found anywhere else on the service. The premium package would cost $19.99 per month, be accessible on both desktop and mobile, and
include the following features
:
- Exclusive news/alerts summaries personalized for you
- Content management tools like bookmarks, to-do lists, and 'save for later'
- Cross posting to other social media platforms
- Advanced custom trend analysis and alerting tools
- Exclusive content on social media best practices and strategy
- Enhanced tools for managing and creating custom audience lists (e.g., by interest, customer, or region, etc.)
- Exclusive priority customer support
- The ability to manage multiple Twitter accounts
- Advanced publishing features (e.g., scheduling, collaboration, drafting, etc.)
- Advanced tools for sorting or filtering searches
- An ad-free experience
- Analysis tools for understanding topics or conversations on Twitter
- Ability to access this experience on both desktop and mobile devices
- Ability to securely manage the account across multiple team members
- Twitter customization such as color themes and layouts
- Access to pre-populated lists of users and influencers by interest topic (e.g., industry or subject experts)
- Additional account activity details (e.g., influence scores, account unfollows, or ability to see who is looking at your profile page)
- Ability to import user lists from outside sources
- Advanced analytics on my own content performance
The news was shared by The New York Times affiliated journalist Andrew Tavani, and in addition to the detailed list of features, he tweeted out an overall summary of what the service is said to encompass. With the premium additions, Twitter is aiming to help journalists, marketers, and other such professionals "get even more out of Twitter."

"Twitter is considering offering a more advanced TweetDeck experience, with more powerful tools to help marketers, journalists, professionals, and others in our community find out what is happening in the world quicker, to gain more insights, and see the broadest range of what people are saying on Twitter. Whether you use Twitter for work or just want to be more informed on the latest news, sports, entertainment, political viewpoints, and information in today's world, this more advanced TweetDeck experience will be designed to help you get even more out of Twitter.

This premium tool set will provide valuable viewing, posting, and signaling tools like alerts, trends and activity analysis, advanced analytics, and composing and posting tools all in one customizable dashboard.

It will be designed to make it easier than ever to keep up with multiple interests, grow your audience, and see even more great content and information in real-time. It would also offer extra features such as advanced audience insight and analytics, tools to monitor multiple timelines from multiple accounts and from multiple devices, including mobile, all in an ad-free experience.
Twitter confirmed that it is conducting a survey "to access the interest" in this premium version of the service, so no official decision has been made as of yet. It should also be pointed out that the company's wording strictly stuck to the added value proposition for "professionals," with no apparent intention to make a monthly subscription version of Twitter for its casual users.
In the past few years, Twitter has struggled to convince users to stay with the service, as well as faced difficulties in enticing new users to adopt Twitter over its competitors like Snapchat and Facebook. Changes to the service have done some good in improving certain annoyances users had with it -- like removing handles and media attachments from the character count limit and improving anti-harassment tools -- but Twitter has seen little growth from these initiatives. Twitter's total worldwide users currently sit at 319 million, compared to Facebook's 1.86 billion.