As Nintendo keeps launching new properties onto smartphones, the company has taken different strategies in regards to each app's payment model, including free-to-play (Miitomo, Fire Emblem Heroes) and pay-once-and-play (Super Mario Run). According to a senior official at the company, Nintendo actually "prefers" the Super Mario Run model over Fire Emblem Heroes, despite the more lucrative future that Fire Emblem Heroes' in-app purchases have in store for Nintendo (via Nikkei).
According to Nintendo President Tatsumi Kimishima, Super Mario Run's revenue "did not meet" the company's expectations. Ahead of the game's release, it was reported that Nintendo was eyeing a pay-once model so that parents could download Super Mario Run for their kids without the added anxiety of in-app purchases appearing later in their iTunes purchase history.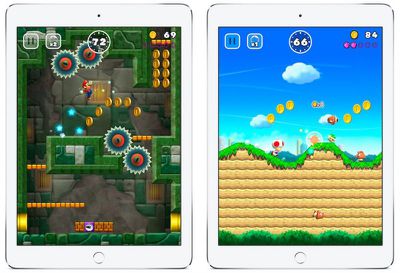 It appears that the gaming company still intends for most of its future apps to follow in Super Mario Run's footsteps and not those of Fire Emblem Heroes, with a senior company official referring to Heroes as "an outlier" in the grand scheme of Nintendo's mobile strategy.

Yet [Super Mario Run] was less of a moneymaker for Nintendo than might have been expected, due to the pay-once-and-play model. Revenue from the game "did not meet our expectations," Nintendo President Tatsumi Kimishima said.

Even so, Nintendo has no intention of switching focus to freemium games. "'Heroes' is an outlier," a senior company official said. "We honestly prefer the 'Super Mario Run' model."
The company is believed to care more about expanding the reach of its intellectual properties to a wider audience and "aims to do more with its smartphone games than make money." Another goal for Nintendo is to mine the potential synergy future apps could have with the new Switch console, where players pick up the app to get hooked, and are convinced to further explore -- and spend more money -- on a larger version of the game.
According to Nikkei, the long-term success of Super Mario Run will be measured in how well it turns new Nintendo fans into console players and buyers: "The game's true value will be measured by how much it expands the ranks of Nintendo fans and helps sales of the Switch."
Last year, Isao Moriyasu -- Chief Executive of DeNA, Nintendo's mobile app developer partner -- said that the next two Nintendo apps would be "free-to-start apps," referring to Fire Emblem Heroes and Animal Crossing, which was recently delayed. Super Mario Run is technically free-to-start as well, allowing players to mess around with a few story levels and modes before asking for the monetary investment to unlock the full game. This week, that free section was expanded slightly in the game's version 2.0 update.

Players can purchase game-boosting "Orbs" in Fire Emblem Heroes
In terms of payment models, the distinction between
Fire Emblem Heroes
and
Super Mario Run
is clear, and it appears that Nintendo intends to keep focused on higher-priced gaming apps instead of the more popular freemium model. Looking towards the future, we still only know that
Animal Crossing
is set to appear next on mobile devices, likely sometime later this year. Unfortunately, today's news muddies the waters regarding that game's payment strategy, since it's now unclear whether it will lean towards
Fire Emblem Heroes
' freemium model, as Moriyasu said, or be part of Nintendo's preference for a pay-once option.
Super Mario Run launched in December and saw massive launch day download numbers, but the app has since dwindled down the Top Grossing charts for the Games section of the iOS App Store, amid users raising uncertainties over its $9.99 price tag and always-online requirements. At the time of writing, Super Mario Run is the 117th game on the Top Grossing Games list, while Fire Emblem Heroes sits at the 48th spot.