Super Mario Run Sets App Store Record With 40 Million Downloads as New Game Mode Rolls Out
Popular iOS game Super Mario Run set a new download record yesterday, following its release last week on Thursday, December 15. According to app analyst Sensor Tower, the game hit 25 million downloads in just four days, which is faster than Pokémon Go, which took 11 days to reach the same number, although that game's initial launch was limited in terms of available territories.
SensorTower's current estimate puts paid users at approximately 2.1 million worldwide. By comparison, the paid game Lara Croft Go, launched in August 2015, has been downloaded approximately 280,000 times worldwide on the App Store since release.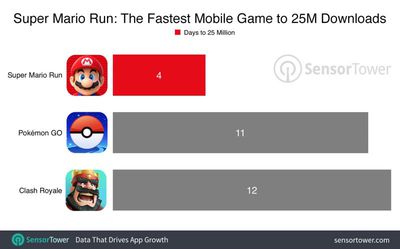 "It can't be understated, however, that the vast majority of early Super Mario Run downloaders clearly find the full game pricing prohibitive, and we can only image how much better the conversion rate could be at $2.99 or even $4.99," said SensorTower in a
blog post
.
Nintendo investors have so far expressed disappointment with Super Mario Run, causing share prices in the company to lose 11 percent since its release. The declines stem from negative user reviews of the game on the iOS App Store, where it is currently rated 2.5 stars out of 5 based on 4,919 reviews. This has led to concerns over the game's one-time payment model, which eschews the typical model of paying various small amounts for select in-game features.

"Mario is arguably the most popular gaming franchise in the world, yet we see only about 8 percent of those who try the game actually purchasing it," Sensor Tower analyst Spencer Gabriel told Reuters.

"I don't think this is a statement on the game's quality ... but rather the perceived value when compared to free-to-play games that offer much more content with optional microtransactions that enable players to experience it sooner."
In spite of reports that Nintendo won't be adding extra features to Super Mario Run, the company today rolled out an update to its first iOS title that adds a new gameplay mode allowing users to compete with friends without paying any Rally Tickets.
Dubbed "Friendly Run", the new mode can be played up to three times daily for gamers who paid $10 for the full content and have cleared World 1, while those who have cleared World 2 get five Friendly Runs per day. Players of the trial version can also get in on the action as long as they have some friends added in the game, but the mode can only be played once a day until the in-app purchase is made.
As noted by MacRumors sister site TouchArcade, with no coins being earned and no Toads or enemy level-ups up for grabs, the new mode is essentially just a practice mode, but it does offer a new way to compete with friends, which should add longevity to the game.
Super Mario Run is available to download for iPhone, iPod touch, and iPad. [Direct Link]
Update: Nintendo has since released official download figures for Super Mario Run and claims that 40 million people have downloaded the free version of the game in just four days.