5.8-Inch iPhone Said to Have Curved Display, But Not as Curved as Galaxy S7 Edge
Apple's widely rumored 5.8-inch iPhone will feature a curved OLED display, although the curvature will be gentler than Samsung's Galaxy S7 Edge, according to Japanese website Nikkei Asian Review.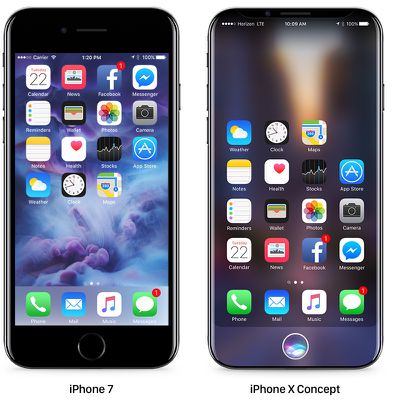 The curve will be gentler than screens in Samsung's Galaxy S7 Edge handsets. This is partly due to the challenges of making curved glass covers to match screens, according to the source.

While the curved screen will allow a viewable area of about 5.2 inches and make the iPhone even sleeker, it will not offer significant new functions, the person said.
The report comes less than a week after research firm IHS Markit said it "anticipates Apple will adopt a flat implementation of OLED design on their special iPhone model, which is analogous to the current 2.5D glass design."
KGI Securities analyst Ming-Chi Kuo and Chinese research firm TrendForce previously said they expect the premium iPhone to have 2.5D cover glass, which refers to the slightly curved front glass that iPhones have had since the iPhone 6 in 2014. A "gently" curved display could perhaps conform to this design.
The report cites a source that said Apple "would not be using OLED optimally" if it opted for a flat display like existing iPhone models, but it cautioned that the design has not been finalized and could still change.
It added that the curved screen will "allow a viewable area of about 5.2 inches," although it said it will not offer significant new functions. Kuo expects the high-end iPhone will feature a 5.8-inch display with 5.15 inches of usable screen space, but he said some of the remaining space will be reserved for virtual buttons.
The Wall Street Journal recently said Apple's next high-end iPhone will have a curved screen, but the report did not divulge any specific details. The Korea Herald also said the device will have a curved OLED display using a flexible plastic substrate, rather than a flat display based on glass.