Apple May Announce 9.7-Inch 'iPad Pro 2' as Early as Next Week
Earlier this week, a well-known research firm that requested confidentiality told us that, based on their own sources, it expects Apple to announce new products later this month, most likely during the week of March 20. The research firm did not say which products it expects, or the manner in which they will be announced.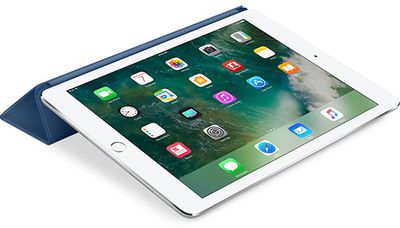 Following our report, some Japanese analysts have predicted that a second-generation 9.7-inch iPad Pro will be announced next week, according to Japanese blog Mac Otakara. The analysts are reportedly basing this prediction on supply chain information and the lack of a scheduled Apple event next week.
Given that Apple usually invites the media to a launch event at least 10 days beforehand, and if the information we were provided about Apple announcing new products as early as next week is accurate, it is possible the so-called "iPad Pro 2" could be announced via press release rather than at a launch event.
A press release could be an appropriate manner for Apple to announce a new 9.7-inch iPad Pro, given that rumors suggest it will be an iterative upgrade. One of the only rumored additions to the 9.7-inch iPad Pro is quad microphones, while Mac Otakara suggests it could have a faster Apple A10X chip.
KGI Securities analyst Ming-Chi Kuo expects Apple to launch a low-cost 9.7-inch iPad Pro this year, likely with its current Apple A9X chip. He did not mention an entirely new 9.7-inch model. If the 9.7-inch iPad Pro is essentially only getting a price cut, then a press release as early as next week would be fitting.
Apple similarly issued a press release when it dropped the price of the fourth-generation iPad to $399 in March 2014. Apple's current low-cost 9.7-inch model, the iPad Air 2, starts at $399, while the 9.7-inch iPad Pro starts at $599.
Beyond the 9.7-inch iPad Pro, Apple is rumored to launch an all-new 10.5-inch iPad Pro with slimmer bezels and an updated 12.9-inch iPad Pro in the near future. A few reports claim a new 7.9-inch iPad Pro could also be released, but some analysts disagree and do not expect the iPad mini 4 to be updated.
The 10.5-inch iPad Pro is expected to have slimmer bezels, and there is a slim chance it will have no Home button, allowing it to have the same overall footprint as the 9.7-inch iPad Pro. This design could foreshadow the rumored 5.8-inch iPhone. The tablet is also rumored to have a higher-resolution display and quad microphones.
The updated 12.9-inch iPad Pro is said to feature a 12-megapixel rear camera and True Tone display like the current 9.7-inch model, using advanced four-channel ambient light sensors to automatically adapt the color and intensity of the display to match the light in the surrounding environment.
While it is becoming clear that new iPads are on the horizon, Apple's exact launch plans remain convoluted.
If Apple still plans to host an event later this month as one increasingly unlikely rumor said, it would most likely fall between Monday, March 27 and Friday, March 31, given the 10-plus-day buffer for inviting the media.
At this event, the rumor said Apple will unveil its new iPad Pro lineup, a larger iPhone SE model with 128GB storage, and new Apple Watch bands. The report also claimed Apple will add a red color option for iPhone 7 and iPhone 7 Plus, which could be part of its charitable (PRODUCT)RED campaign.
Of course, the event could be later. Taiwanese website DigiTimes claims Apple is planning to unveil the 10.5-inch iPad Pro at an early April event to "mark the inauguration of Apple's new headquarters in California," but it is unlikely that the supply chain sources cited would know this specific information.
It is also unclear if Steve Jobs Theater would be ready for an April event, as Apple indicated it opens "later this year" while employees start moving to the new campus next month. The latest drone footage by Duncan Sinfield shows that the theater is still under construction and surrounded by mounds of dirt.
Steve Jobs Theater is shown around the 1:45 mark
Apple could hold an event elsewhere, or even wait until WWDC 2017 in June. Or, just like a low-cost 9.7-inch iPad Pro, a red iPhone 7, 128GB iPhone SE, and new Apple Watch bands could certainly be announced by press release or an update to Apple's website in the meantime.