Qualcomm's and Intel's Latest LTE Modems for Smartphones Exceed Gigabit Speeds
Ahead of Mobile World Congress next week, Qualcomm and Intel have separately announced the latest LTE modems for smartphones with theoretical download speeds exceeding so-called "Gigabit LTE," aka 1 Gbps. Apple sources LTE modems for iPhones from both chipmakers.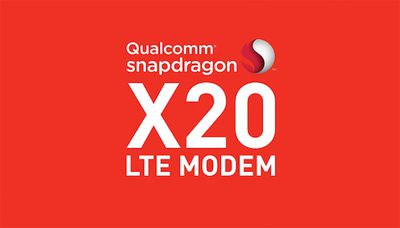 Qualcomm's new Snapdragon X20 modem is the first-announced modem to support Category 18 download speeds up to an ultra fast 1.2 Gbps, with Category 13 upload speeds of up to 150 Mbps. That builds upon Qualcomm's Snapdragon X16, which has a peak download speed of 1 Gbps.
Qualcomm said the Snapdragon X20, built on a leading-edge 10nm FinFET process, supports more combinations of LTE carriers and a higher number of total LTE spatial streams. This "vastly expanded flexibility" will for more operators around the world to deploy Gigabit LTE in the future.
Qualcomm said the first products with the Snapdragon X20 modem are expected to be available in the first half of 2018.
Intel's new XMM 7560 modem [PDF] supports LTE Advanced Pro for up to Category 16 download speeds "exceeding" 1 Gbps, and Category 13 upload speeds of up to 225 Mbps. The XMM 7560 modem is Intel's fifth-generation LTE modem, and the first to be manufactured based on its 14nm process.
Intel said the XMM 7560 modem is expected to sample in the first half of this year and move into production soon afterward.
Both modems support 5x carrier aggregation, 4x4 MIMO configurations, up to 256-QAM, and other technologies. Both chips also work with a number of cellular technologies, covering most LTE, CDMA, and GSM standards, meaning that equipped smartphones will be usable on most networks around the world.
Overall, Qualcomm appears to remain a step ahead of Intel, but it's a rather moot point for now given that Australian carrier Telstra currently has the only Gigabit LTE network in the world. There are also no Gigabit LTE-capable smartphones, although the first ones are expected to be announced at Mobile World Congress next week.
Nevertheless, the broader availability of Gigabit LTE is on the horizon. More smartphones will inevitably support the faster speeds in the future, while AT&T, Sprint, and T-Mobile are all testing or plan to deploy Gigabit LTE this year in the United States, on the bigger path towards next-generation 5G networking.
But even then, it is important to remember these are just theoretical speeds. In the latest OpenSignal testing, based on aggregated data from nearly 170,000 smartphone users, average LTE download speeds at AT&T, Verizon, Sprint, and T-Mobile ranged between 8 Mbps and 17 Mbps—a far cry from 1 Gbps.
Apple could theoretically include the Snapdragon X20 or Intel XMM 7560 in a future iPhone, thereby making it a Gigabit LTE-capable smartphone, but it may elect to wait until more networks are up to speed.
iPhone 7 and iPhone 7 Plus are equipped with Qualcomm's Snapdragon X12 or Intel's XMM 7360 depending on the model. The X12 has a theoretical peak download speed of up to 600 Mbps, while the XMM 7360 reaches up to 450 Mbps. Qualcomm models were unsurprisingly found to be faster in subsequent testing.