Sprint and T-Mobile Merger Back on the Table as SoftBank Agrees to Cede Control of Sprint
Sprint parent company SoftBank is prepared to sell Sprint to T-Mobile parent company Deutsche Telekom, reviving a potential merger between the two companies, reports Reuters.
According to unnamed sources that spoke to the site, SoftBank is reportedly frustrated with Sprint's growth in the United States and is ready to surrender control of the company and take a minority stake in T-Mobile.
Back in 2013, before T-Mobile soared in popularity, the situation was reversed. Sprint was prepared to purchase T-Mobile in a deal said to be worth more than $20 billion, but Sprint abandoned its plans in 2014 amid regulatory scrutiny, deciding that it would be too difficult to win approval from regulators.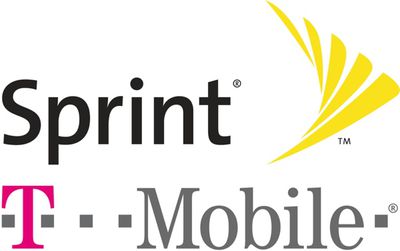 At the time, U.S. antitrust officials reportedly told Sprint that having four national carriers in the United States was important to maintaining a competitive market. AT&T also once attempted to purchase T-Mobile, but that deal fell through too after being blocked by the Federal Communications Commission and the Department of Justice.
Given T-Mobile's recent success, Deutsche Telekom is no longer interested in selling the company, leaving SoftBank to pursue another merger strategy.
Sprint and T-Mobile will likely face the same regulatory scrutiny if a potential purchase deal is reached between the two.
Investors have said a merger between T-Mobile and Sprint, ranked third and fourth respectively, would still face antitrust challenges, but made strategic sense as the industry moves to fifth-generation wireless technology. Carriers will need to spend billions of dollars to upgrade to 5G networks that promise to be 10 times to 100 times faster than current speeds.

While SoftBank is still open to discussing other options, it is now willing to surrender control of Sprint and retain a minority stake in a merger with T-Mobile, the sources said. They asked not to be identified because the deliberations are confidential.
The two companies have not yet started to discuss a deal because of strict anti-collusion rules that are in place during an ongoing spectrum auction. The auction, which is being overseen by the FCC, ends on March 30, and negotiations are expected to begin at that time.