Future iPhone May Use Customized Wireless Charging System Made in Partnership with Broadcom
A future version of the iPhone could use a customized wireless charging system created in partnership with Broadcom, according to JPMorgan analyst Harlan Sur (via CNBC).
While Apple and Broadcom have reportedly been working together on a wireless charging solution for approximately two years, Sur is not sure whether the feature will be included in the 2017 iPhone due to "caution around the battery-related recall" of the Samsung Galaxy Note 7.
Despite Harlan's caution, the upcoming 2017 "iPhone 8" is widely rumored to include some kind of wireless charging solution, but details on how it is being implemented and whether or not Apple is working with a partner like Broadcom remain unknown at this time.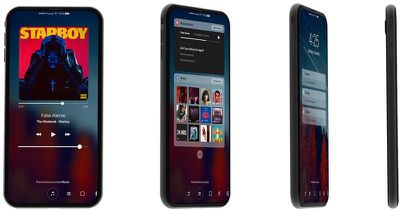 Past rumors have suggested wireless charging partnerships and supplier deals with Lite-On Semiconductor, MediaTek, Foxconn, Pegatron, and Luxshare, making it difficult to suss out Apple's wireless charging plans.
Harlan's research note also echoes previous rumors pointing towards a glass body for future iPhones, which many analysts believe is being implemented to facilitate wireless charging.
"We believe the glass back cover is conducive to wireless charging as it reduces signal interference versus a metal casing," Sur wrote. "It is possible for Apple to add proprietary features such as fast charging or extended charging to differentiate itself from the pack and enhance the value of its own hardware ecosystem."
Early wireless charging rumors suggested Apple would use a long-range wireless charging solution, but more recent speculation suggests the company may instead opt for an Apple Watch-style inductive charging solution. A glass body, as is rumored, would be necessary for an inductive charging option, and Apple also recently joined the Wireless Power Consortium, a group committed to the open development of the Qi wireless charging standard used in devices like the Samsung Galaxy.
Along with wireless charging, Apple's 2017 iPhone is rumored to include a radical redesign, featuring the aforementioned glass body and an edge-to-edge ~5-inch OLED display that eliminates the device's Home button. Rumors suggest this device will be positioned as a high-end "premium" model that could cost upwards of $1,000, and most sources believe it will be sold alongside two more affordable 4.7 and 5.5-inch devices that resemble the iPhone 7 and the iPhone 7 Plus.
Rumors disagree on exactly what material the two regular-sized devices will be made from, and whether or not they will include wireless charging as well.
For full details on what to expect from the flagship OLED iPhone 8 and its two companion devices, make sure to check out our dedicated iPhone 8 roundup, which is updated regularly with new rumors.