BlackBerry Hits '0%' Market Share Nearly Ten Years After iPhone Launched
Nearly ten years after Apple launched the iPhone, which completely upended the smartphone industry, the device has effectively helped to wipe out one of its major predecessors: the BlackBerry.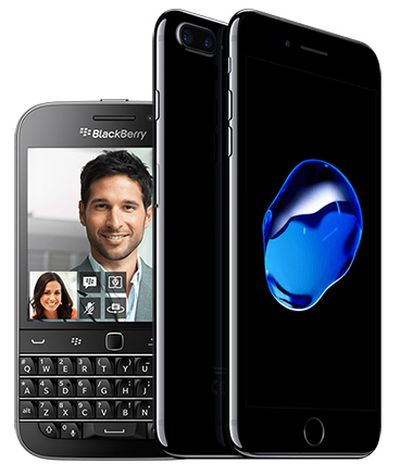 BlackBerry has at last fallen to a rounded 0.0% share among smartphone operating systems after shipping just 207,000 smartphones last quarter, following an over seven year decline from its peak market share of approximately 20% in 2009, according to the latest quarterly data from research firm Gartner.
The demise of the smartphone that was once the poster child of Canadian innovation has been a long one in the making, but one that was inevitable now that BlackBerry has shifted its focus to software and sold the global rights to future BlackBerry-branded smartphones to Chinese company TCL Communication.
BlackBerry actually continued to grow for around two years after the iPhone launched in June 2007, taking market share away from then-leader Nokia. BlackBerry's market share among all smartphone operating systems was 9.6% in 2007, 16.6% in 2008, and 19.9% in 2009, according to Gartner. Then, the decline started.
By 2011, the surging popularity of iPhones and Samsung Galaxy smartphones led iOS and Android to leapfrog BlackBerry and Nokia to form a duopoly in the smartphone market that exists to this day. iOS and Android combined for a record 99.6% market share last quarter, according to Gartner.

Worldwide Smartphone Sales to End Users by Operating System in 4Q16 (Gartner)
Windows 10 Mobile was the only other platform to make any sort of dent last quarter, recording an insignificant 0.3% market share, according to Gartner. Windows 10 Mobile fell from 1.1% in the year-ago quarter. A group of unnamed "other" operating systems captured the remaining 0.1% share.
iOS adoption is still low compared to Android, with the platforms capturing 17.9% and 81.7% worldwide market share respectively in the fourth quarter. iPhones mainly target the premium smartphone market, however, while there are Android-based smartphones at all price points sold by dozens of brands.
What's next for BlackBerry? In addition to focusing on software, the company is also doing self-driving vehicle research, while its rumored "Mercury" smartphone by TCL will be unveiled on February 25 at Mobile World Congress.