Energous Says Its Truly Wireless Charging Technology Will Ship Later This Year — In Next iPhone?
Amid rumors that Apple will release its first iPhone models with wireless charging capabilities as early as this year, its possible partner Energous has told The Verge that its first truly wireless transmitters will begin shipping by the end of 2017, over two years after it first introduced the technology.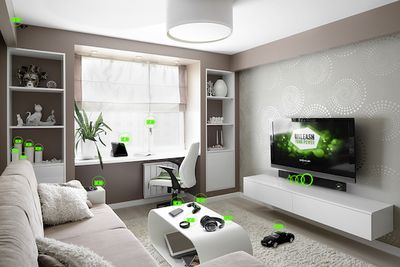 Energous CEO Steve Rizzone also dropped yet another hint suggesting its partner is indeed Apple. "One of the largest consumer electronic companies in the world," he said. "I cannot tell you who it is, but I can virtual guarantee that you have products from this company on your person, sitting on your desk, or at home."
Energous is the company behind WattUp, a truly wire-free, over-the-air charging technology that uses radio frequencies to charge devices from up to 15 feet away. If you walked into a room with a WattUp transmitter, for example, a smartphone with a built-in WattUp receiver would automatically begin charging.
Energous today announced that its WattUp technology will be embedded in six products on display at CES 2017 this week, such as the Chipolo Plus Bluetooth tracker and a SK Telesys hearing aid, but these implementations will require small, contact-based, portable transmitters rather than the larger, truly wireless transmitters coming.
The company said these early devices integrated with WattUp receiver technology will be able to seamlessly transition from being charged by the contact-based transmitters to forthcoming larger transmitters that offer over-the-air charging at-a-distance of up to 15 feet, seemingly by the end of this year.
There is plenty of anecdotal evidence to suggest Apple and Energous have partnered on wireless charging. Energous has claimed it is working with "one of the top five consumer electronics companies," it has relationships with Apple manufacturers TSMC and Foxconn, and both Apple and Energous are members of ANSI.
Energous certification documents dating back to 2014 were also uncovered with an "Apple compliance testing" listing, and Apple supplier Dialog Semiconductor recently made a $10 million investment in Energous. Dialog makes power management chips and is said to get as much as three quarters of its business from Apple.
The deal Energous made reportedly gives its mystery partner first dibs on shipping its truly wireless charging technology "inside of phones, laptops, tablets, and certain wearables and accessories," and given the multiple rumors from credible sources, it appears one of those products could be the next iPhone.
Given that Apple has removed the headphone jack on iPhone 7 models, leaving the Lightning connector with the double duty of charging and connecting wired headphones, the move towards wireless charging would be appropriate.