Apple's Jennifer Bailey Says Customers Are Willing to Switch Banks to Use Apple Pay
Apple Pay vice president Jennifer Bailey believes that Apple Pay is valuable enough that "customers will say they are happy to switch banks to use it."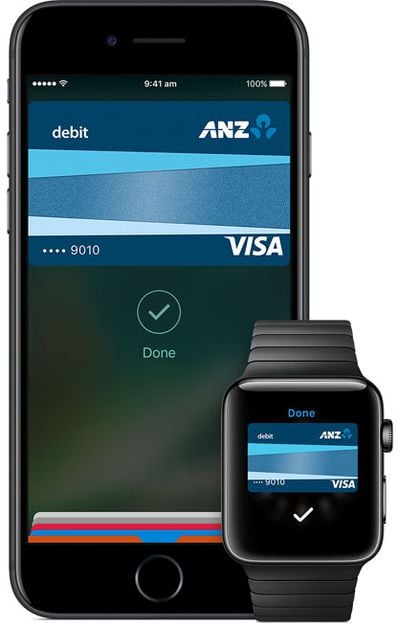 Bailey claims Australians are using Apple Pay more frequently than customers in any other countries, which she said "is in large part due to Australia being a recognized global leader in contactless payments and usage."
That's good news for ING Direct and Macquarie, which have announced they will enable support for Apple Pay in Australia by the end of February. Both banks are listed as "coming soon" on the Apple Pay website in Australia, alongside ANZ, Bank Australia, Beyond Bank, P&N Bank, and over 30 other smaller banks.


Bailey's comments, made in an interview with the Australian Financial Review, appear to be directed towards three of Australia's "Big Four" banks that refuse to accept Apple Pay, namely Commonwealth Bank, NAB, and Westpac. The fourth bank, ANZ, has supported Apple Pay since April 2016.
The trio of banks, along with Bendigo and Adelaide Bank, instead turned to the Australian Competition and Consumer Commission (ACCC) in an attempt to gain access to the NFC hardware in the iPhone. The banks want access to the NFC chip so they can offer their own existing bank-run mobile payments services.
"While initially, in many markets, there have been banks that have initially been wary about working with a company as large as Apple, once they begin to work with us and understand the Apple Pay platform, they see the benefits of it," said Bailey. "That hasn't fully happened with the ACCC applicants, because the conversation is happening through the ACCC process, compared to what normally happens, which is we have the conversation bilaterally."
The ACCC denied rejected the application from the banks in November as part of a draft ruling, and its final decision will be announced in March.
Last year, Apple told the ACCC that "allowing the banks to form a cartel to collectively dictate terms to new business models and services would set a troubling precedent and delay the introduction of new, potentially disruptive technologies."
Apple upholds very high security standards for our customers when they use Apple devices to make payments. Providing simple access to the NFC antenna by banking applications would fundamentally diminish the high level of security Apple aims to have on our devices.

Unfortunately, and based on their limited understanding of the offering, the [banks] perceive Apple Pay as a competitive threat. These banks want to maintain complete control over their customers. The present application is only the latest tactic employed by these competing banks to blunt Apple's entry into the Australian market.
Earlier this week, the banks said they are fighting to provide "real choice" and "real competition" for consumers.
The application has never been about preventing Apple Pay from coming to Australia or reducing competition between wallets. It has always been about providing real choice and real competition for consumers and facilitating innovation and investment in the digital wallet functionality available to Australians. Apple's statement that the application is fundamentally about an objection to the fees that Apple wish to be given rather than NFC access, is incorrect and unsupported.
Despite the ACCC negotiations and apparent ill-will, Bailey said Apple still wants "to work with the banks in Australia to bring Apple Pay to our customers, in a way that advantages many of the things they are offering through their banking apps, which we have done already in other markets."
"That's why the announcement about these new banks is important and we are continually on that path – because as more banks get on the platform, I think there is more of an industry understanding about how Apple Pay really compliments their services," she added, referring to ING Direct and Macquarie.
Commonwealth Bank, NAB, Westpac, and Bendigo and Adelaide Bank reportedly serve two-thirds of Australian cardholders.