Apple Watch Dominated Holiday Season With Estimated 5.2 Million Shipments
Apple shipped a record-breaking 5.2 million Apple Watch units last quarter, making it by far the most popular smartwatch of the holiday shopping season, according to the latest data from research firm Strategy Analytics. Apple captured an estimated 63.4% of the worldwide smartwatch market during the quarter.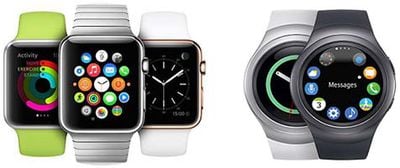 Apple's closest competitor Samsung shipped only 800,000 smartwatches in the quarter, for an estimated 9.8% market share, according to Strategy Analytics. All other smartwatch vendors, such as Garmin, Fitbit, and Huawei, combined for an estimated 2.2 million shipments and 26.8% market share.


"Demand for Apple's new Watch Series 2 as a holiday-season gift in Western markets was surprisingly strong and it enabled Apple to clear a large backlog of smartwatch inventory during the quarter," said Strategy Analytics director Cliff Raskind.
It is important to acknowledge that these are estimated figures, and that shipments do not necessarily reflect sales.
Apple does not break out Apple Watch sales like it does with iPhones, iPads, and Macs, and instead groups the device under its "Other Products" category. Given the category also includes the Apple TV, Beats products, iPods, AirPods, and other accessories, figuring out Apple Watch revenue is deliberately challenging.
Apple only elected to share that the Apple Watch set all time sales records during the first quarter of its 2017 fiscal year, with CEO Tim Cook noting holiday demand was "so strong" that Apple "couldn't make enough."
Strategy Analytics will not disclose its exact methodology for competitive reasons, but executive director Neil Mawston told us the company uses "a blend of channel checks, financial analysis, and other sources" to estimate Apple Watch shipments. "It is the same methodology we have used for phones since the 1990s and for wearables since the modern market first emerged circa 2013."
Apple saw its "Other Products" revenue drop 8% to $4.02 billion in the quarter compared to $4.35 billion in the year-ago quarter, a sizeable decline that Apple financial chief Luca Maestri attributed to declining Apple TV sales.
Strategy Analytics said the smartwatch industry is showing "tentative signs of recovery" this year, but Raskind noted there remain "several barriers to growth" that must be addressed.
Smartwatch vendors like Samsung need to launch more exciting or cheaper models, Apple must engage closer with mobile operators to stock or subsidize its popular Watch portfolio, while component makers need to develop more accurate sensors for health and fitness tracking that consumers will trust and use more.
Apple Watch shipments totaled 11.6 million units in 2016, or slightly more than half of the estimated 21.1 million smartwatches shipped by all vendors in the year, according to Strategy Analytics. The firm's data shows a slightly lower 20.8 million smartwatches were shipped globally in 2015 for comparison.